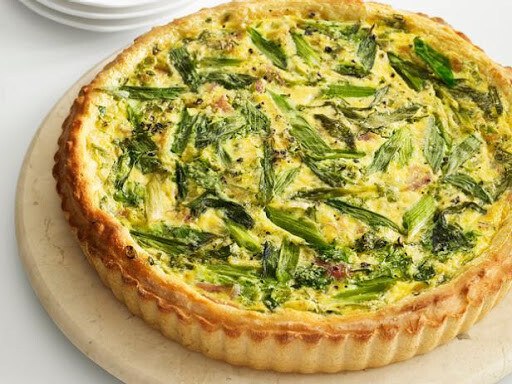 3 tablespoons unsalted butter
1 13.8 ounces tube refrigerated pizza crust dough
1/2 cup ricotta cheese
1/4 cup heavy cream
1 large egg
2 to 3 bunches scallions
3 tablespoons chopped fresh parsley
2 tablespoons chopped fresh dill or tarragon
freshly ground pepper
12 ounces deli-sliced ham, cut into 1/2-inch pieces
Place a baking sheet on the top rack of the oven; preheat to 425 degrees. Grease a 9-inch fluted tart pan with 1 tablespoon butter. Line the pan with the pizza dough, carefully pressing it against the sides; trim excess dough.
Whisk the ricotta, cream and egg in a medium bowl. Mince enough green scallion tops to make 2 tablespoons; add to the ricotta mixture along with the parsley and dill. Season with pepper. Slice the remaining scallions into 1/2- to 1/4-inch pieces.
Heat the remaining 2 tablespoons butter in a large skillet over high heat. Add the sliced scallions and 2 tablespoons water; cook until the scallions are tender and start to sizzle, about 3 minutes. Remove from the heat and add the ham. Spread all but a few tablespoons of the scallion mixture on the prepared crust. Pour in the ricotta mixture, then scatter the remaining scallion mixture on top.
Bake the tart on the preheated baking sheet for 20 minutes, or until the crust is golden and the filling is set. Rest in the pan for 5 minutes, then remove and slice.