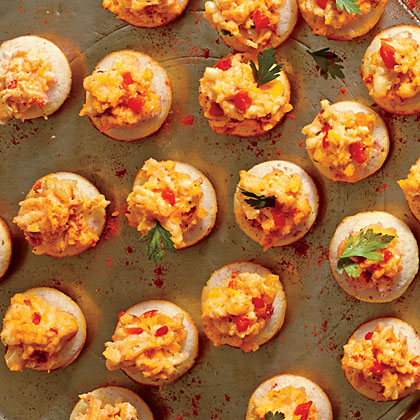 2 cups self-rising white cornmeal mix
2 cups buttermilk
1/2 cup all-purpose flour
2 large eggs, lightly beaten
1/4 cup butter, melted
2 tablespoons sugar
Ricotta Pimiento Cheese (see below)
Preheat oven to 400°. Stir together cornmeal mix, buttermilk, flour, eggs, butter, and sugar just until moistened. Spoon batter into 2 lightly greased miniature muffin pans, filling two-thirds full. Bake, in batches, 15 minutes or until golden brown. Cool 5 minutes. Scoop about 1 tsp. from top of each muffin; discard or reserve for another use. Spoon about 1 tsp. Ricotta Pimiento Cheese into each muffin; place on a baking sheet. Bake at 400° for 3 to 4 minutes or until cheese melts.
Ricotta Pimiento Cheese
1 cup (4 oz.) shredded pepper Jack cheese
3/4 cup (3 oz.) shredded sharp Cheddar cheese
1/2 cup whole-milk ricotta cheese
2 tablespoons mayonnaise
1 tablespoon drained diced pimiento
1/4 teaspoon ground black pepper
1/8 teaspoon table salt
1/8 teaspoon ground red pepper
Stir together pepper Jack cheese, Cheddar cheese, ricotta cheese, mayonnaise, pimiento, ground black pepper, salt, and ground red pepper in a small bowl. Store in refrigerator up to 3 days.
Southern Living