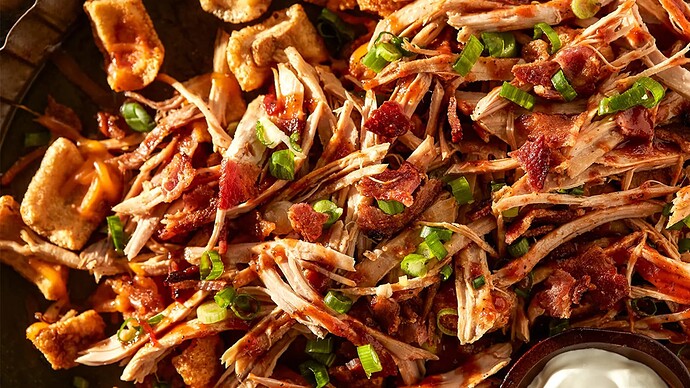 5 ounces pork skins (1 medium bag)
1⁄4 cup grated cheddar cheese
1⁄2 cup shredded or chopped barbecued pork (or any other smoked meat), warmed through
1⁄4 cup Kathy's Sweet Sauce
1 tablespoon bacon bits
2 tablespoons thinly sliced scallion (white and green parts)
2 heaping tablespoons sour cream
Position a rack in the center of the oven and preheat the oven to 425 °F.
Arrange the pork skins on a sheet pan large enough to hold them and top with the cheddar and the meat. Transfer to the oven for just long enough to melt the cheese, 5 to 7 minutes.
Remove from the oven and top with the sauce, bacon bits, scallions, and sour cream. Serve hot.
Kathy's Sweet Sauce
2 cups ketchup
½ cup apple cider vinegar
4 ½ tablespoons granulated sugar
2 tablespoons plus 1 teaspoon brown sugar
1 tablespoon hot sauce (preferably Texas Pete)
1½ teaspoons freshly ground black pepper
1 teaspoon Diamond Crystal kosher salt
1 ⅛ teaspoons mustard powder
1 ⅛ teaspoons red pepper flakes
½ teaspoon chili powder
In a medium saucepan, combine the ketchup, vinegar, both sugars, the hot sauce, black pepper, salt, mustard powder, pepper flakes and chili powder. Cook over medium heat, stirring frequently to prevent the sauce from sticking to the bottom of the pan, until the sugars are melted, and the sauce is smooth, about 10 minutes. Allow the sauce to cool at room temperature and refrigerate in an airtight container for up to 3 days.