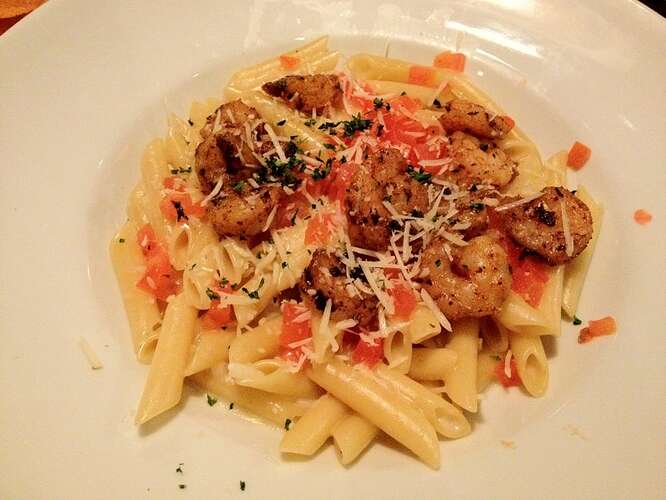 15 medium shrimp (frozen Precooked, thawed)
1 tablespoon olive oil
1 teaspoon dried oregano
1/2 teaspoon salt
1/2 teaspoon pepper
1 tablespoon + 3 tablespoons butter
1 tablespoon olive oil
1 large onion, finely chopped
1 tbsp. dried thyme
¼ tsp crushed red pepper flakes
2 cloves of garlic, minced
1 large tomato, deseeded and chopped
1/2 cup + 1 cup chicken or vegetable broth
2 tbsp all purpose flour
1 cup heavy whipping cream
¼ tsp ground nutmeg
1/2 package penne pasta
Prepare pasta according to package instructions.
In a medium bowl combine 1 tbsp olive oil, oregano salt, & pepper.
Toss oil mixture with thawed shrimp, and heat in a medium skillet until warmed through.
Remove shrimp from skillet.
Melt 1 tablespoon of butter and olive oil in the skillet.
Add onion, red pepper flakes and thyme.
Cook until onion is clear and soft, roughly 5 minutes.
Add garlic and tomato and sauté for roughly 2 minutes.
Add 1/2 cup of broth.
Allow to simmer until liquid evaporates, approximately 3-5 minutes.
Transfer this mixture to the shrimp bowl and toss.
Again in the same pan melt the remaining 3 tablespoons of butter over medium heat.
Whisk in flour until blended.
Stir in cream, remaining broth, and nutmeg.
Increase heat to high, and continue to stir.
Once sauce is simmering, reduce heat to low and continue to simmer until sauce thickens (about 10 minutes.
Add salt & pepper to taste.
Remove from heat and toss with cooked pasta.
Serve warm shrimp mixture over pasta and top with parmesan cheese.