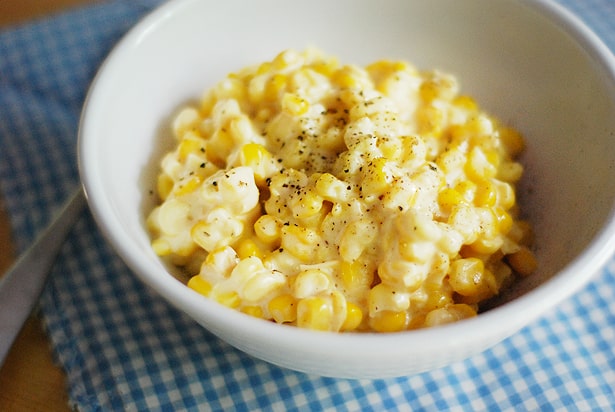 4 pounds frozen sweet corn
2 8 oz blocks cream cheese, diced into 1 inch squares
1/2 cup salted butter (1 stick)
3/4 cup heavy whipping cream
4 tablespoons of granulated sugar
1 teaspoon black pepper
1/2 teaspoon salt
1/3 cup Parmesan cheese (optional)
Throw all the ingredients, without any sort of ceremony or circumstance,
into a crockpot on medium or low for at least 4 hours.
If you need it done faster, cook it on the stove or on high in the crockpot,
but be prepared to sacrifice a little of the savory goodness that results when
corn is allowed to soak in dairy for hours.
All of the cream cheese pieces should be completely melted and will easily
break down and combine with the cream and butter to make the 'gravy'.
12 - 16 servings
Do not over-salt.
There is plenty of salt in the butter and cream cheese.