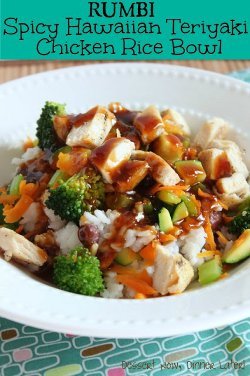 Rumbi Rice:
2½ cups water
1 (14oz) can coconut milk (about 1½ cups; I used light coconut milk)
½ Tbsp sugar
2 cups long grain white rice
1 (15oz) can red beans, drained and rinsed

Spicy Hawaiian Teriyaki Sauce:
¾ cups Mr. Yoshida's teriyaki sauce (found in the grocery store by the BBQ sauces; I actually used Kikkoman Original Teriyaki Sauce.)
1 tsp soy sauce
2 tsp chili garlic sauce (in the Asian section of the grocery store; I used the one in the clear plastic jar with the green lid.)
1 tsp fresh ginger
pinch of salt
1 Tbsp of brown sugar
1 Tbsp cornstarch (if needed)
1 Tbsp COLD water (if needed)

Vegetables & Chicken:
2 chicken breasts (about 2 cups, cubed)
Salt & Pepper
1 Tbsp canola oil
4 carrots, peeled and grated (approximately 1½ cups)
3 celery stalks, washed and sliced (approximately 1½ cups)
1 zucchini, chopped into small cubes (approximately 1½ cups)
1½ cups chopped broccoli florets (approximately ½-3/4 large head of broccoli)

RICE: Combine all ingredients in a rice cooker. Gently stir it all together so the beans are all mixed. Place the lid on and start the rice cooker. Fluff rice with a fork before serving. [If you don't have a rice cooker: Combine water, coconut milk, and sugar in a saucepan. Stir in rice and beans. Bring to a boil over medium heat. Cover, reduce heat, and simmer 18 to 20 minutes, until rice is tender.]
TERIYAKI SAUCE: Combine teriyaki sauce, soy sauce, chili garlic sauce, ginger, salt, and brown sugar in a small saucepan. Bring to a boil and then reduce to a simmer. If needed for thickening, combine cornstarch and water and SLOWLY add to sauce. You want it to be slightly thicker than the jarred teriyaki sauce. Allow to simmer for about a minute. Cool to room temperature and serve with your rice bowls. (If you find that the sauce is too thick when it cools, just add a little more teriyaki sauce to it. I actually could have gone without thickening mine. Just heating it up would have been perfect.)
VEGETABLES & CHICKEN: Season chicken with salt & pepper & grill for 4 minutes on each side, or until cooked through. Allow chicken to rest before cutting into cubes; you can let the chicken rest while you cook the vegetables (it will help keep the juices inside.) Heat canola oil in a large skillet over medium-high heat. Add carrots, celery, zucchini, and broccoli (about equal amounts.) Saute ONLY until vegetables are crisp tender. About 1-2 minutes tops. Serve over Rumbi rice and top with chicken. Serve with Spicy Hawaiian Teriyaki Sauce on the side (about 3 Tbsp per bowl).