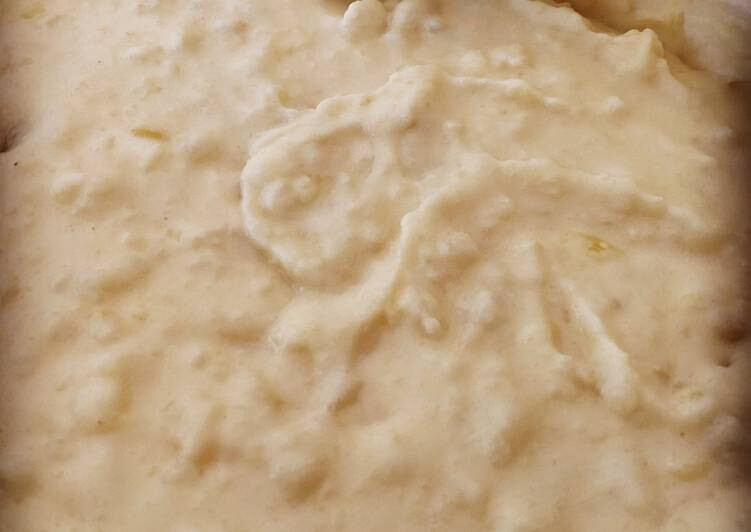 5 medium russet potatoes
2 tablespoons butter, softened
3/4 cup milk
1/2 teaspoon salt
3 tablespoons butter
1/2 teaspoon pepper
1 whole head garlic
OR
1-1/2 teaspoon crushed garlic
1-1/2 teaspoon olive oil
.
Wash and scrub potatoes but leave peelings on. Rub potatoes with softened
butter and place in a 375 degree oven until potatoes are soft when poked
with a fork, about 1 to 1-1/4 hours.
To prepare the garlic cut the top of the head of garlic off so you can see
garlic cloves without any peelings covering them. Spoon the oil on top of
the garlic and wrap in foil. Place in oven while baking the potatoes. Garlic
will take 30-45 minutes. Garlic should be soft and golden in color when
finished baking.
When garlic is removed from the oven cool slightly and squeeze soft garlic
from head. Depending on the size of the cloves it should take about 4-5
cloves. You may use more than 1-1/2 teaspoons if you desire a stronger
garlic flavor.
When potatoes are done chop slightly and place in a large mixing bowl. Add
salt, butter, pepper and roasted garlic that has been mashed and measured.
Add 1/2 cup milk. Beat with electric mixer until fluffy. There will be
little chunks of potatoes that will not be completely mashed. The small
lumps and peelings will give these potatoes a hearty flavor. If potatoes
seem to be too dry add a little more milk.
Serves 8