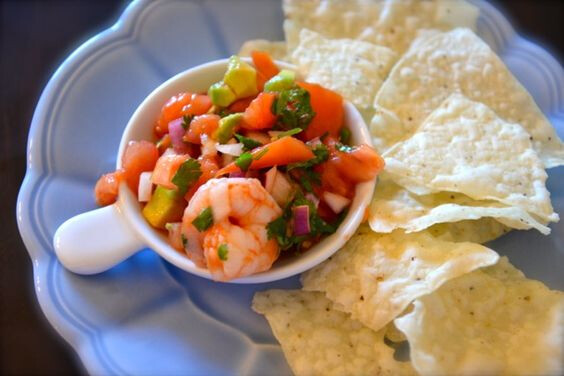 3 cups chopped tomatoes
2/3 cup red onion chopped fine
1/2 cup sweet yellow onion chopped fine
2/3 cup Heinz Chili Sauce
2/3 cup loosely chopped fresh cilantro
2 tablespoons freshly squeezed lime juice
2 teaspoons or more of finely diced jalapeno pepper
1 teaspoon salt
1 avocado diced
1/4 pound of shrimp, peeled and deveined

Boil shrimp in water just until shrimp turns pink. Remove from boiling water and allow shrimp to cool. Chop half of the shrimp into small pieces. In a medium sized bowl combine tomatoes, red onions, yellow onions, chili sauce, cilantro, lime juice, jalapeno pepper, avocado and salt. Stir to combine. Add half of the shrimp to the vegetable mixture. If desired you can place the remaining shrimp on top for decoration or you can simply stir all of the shrimp into the salsa. Serve with chips.
Heinz chili sauce is sold in most grocery stores. It is sold near the cocktail sauce. Personally I like to add extra cooked shrimp and avocado to this salsa.