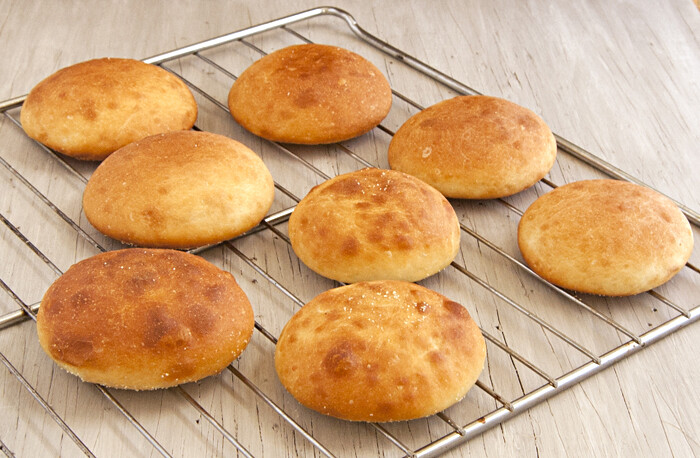 2 1/4 to 2 1/2 cups All purpose flour/Bread flour (unbleached)
1 packet Active Dry Yeast
1 Tbsp Sugar
1/2 cup Warm Water
1/2 cup plain Sour Yogurt
1/4 cup Milk
1/4 tsp Baking Soda
1 1/2 tsp Warm water
3/4 tsp Salt
2 Tbsp Cornmeal/Semolina
In a small bowl, stir together the yeast, 1/2 cup warm water and sugar, and stir to dissolve and let the mixture foam up.
In a large mixing bowl, mix the baking soda and 1 1/2 tsp warm water together and add in the yogurt, milk, salt and 1 cup of flour and mix well using a wooden spoon or the paddle attachment of your stand mixer.
Add in the yeast mixture and the remaining flour. Mix until everything comes together. The dough will be very very sticky.
Note: The author in the original recipe says the dough is almost batter like. I wanted to be able to shape my dough into sandwich buns, so I used up about 2 1/4 cups of flour. If you plan to bake this bread in a pie pan, use 2 to 2 1/4 cup of flour.
Apply some oil in your hands and gather the dough to form a ball, a very very soft dough ball. Place this in a greased vessel in a warm place and let rise until doubled, about 45 minutes to 1 hour.
Note: The original recipe calls for only one rise. Shaping the bread immediately after mixing also gives good results. But I experimented with one batch and let the dough rise first. Then make the buns and let rise gain. This method yielded incredibly soft and chewy bread. You can follow either method.
Once the dough has doubled, punch down the dough with oiled hands. Divide the dough into 9 portions and shape each portion into a ball. Oil your hands in between, as and when required. Line a baking sheet with aluminum foil or parchment paper and sprinkle with cornmeal or semolina. Place the dough balls on the baking sheet, at least 4-5 inches apart. Lightly flatten the dough balls and spray with non-stick spray (or apply some oil with a brush or your hands).
Cover loosely with plastic wrap and set aside to rise, until doubled in size, about 1 hour.
Preheat your oven to 375 F. Place a rack in the middle of the oven, or the top of the bread will get too brown.
Spray the top of the buns with non-stick spray again, or lightly apply some olive oil on the top surface. Bake the bread in a preheated oven for 20 minutes. The top will be browned and the bottom will also start browning lightly.