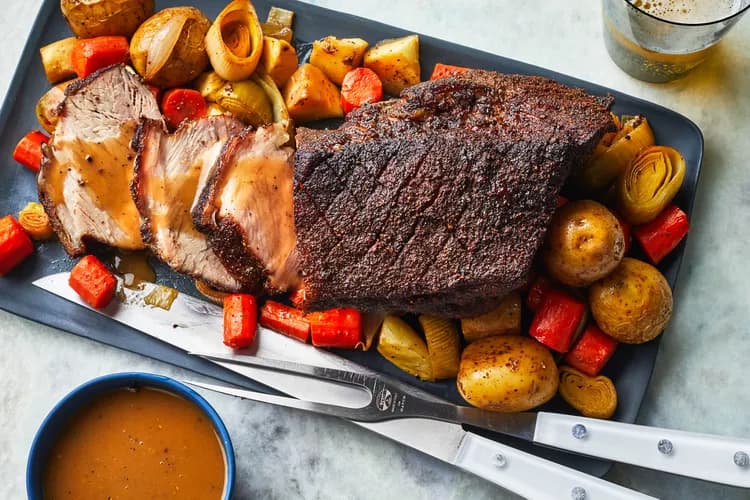 3 medium (about 6 ounces each) leeks
1 (4 1/2-pound) boneless pork shoulder, preferably with a nice, even fat cap (or a 5 1/2-pound bone-in pork shoulder)
1 tablespoon cumin seeds
2 teaspoons caraway seeds
1 tablespoon brown mustard seeds
2 teaspoons hot paprika
1 tablespoon plus 2 teaspoons kosher salt, divided
2 ½ teaspoons black pepper, divided
1 pound baby Yukon Gold potatoes
1 large (about 12 ounces) yellow onion, cut into 1-inch wedges
3 large (about 6 ounces each) carrots, cut into 1-inch pieces (about 3 cups)
3 large (about 5 ounces each) parsnips, cut into 1-inch pieces (about 3 cups)
2 (12-ounce) cans dark German beer (such as Märzen, dunkel, or bock)
2 tablespoons unsalted butter
2 tablespoons all-purpose flour
Remove and discard dark green tops from leeks (or save for stock). Rinse leeks thoroughly under cold water to remove all sand; pat dry. Slice leeks into 1/2-inch rounds (you'll have about 2 cups). Set aside.
Using a boning knife, carefully remove shoulder blade from pork shoulder (be careful not to damage fat cap); discard bone (or save for stock). Trim shoulder until uniformly shaped and between 4 1/2 to 5 pounds in total weight.
Using a sharp paring knife, score the fat cap of the pork in a crosshatch pattern, slicing no more than 1/4-inch deep into fat. Set aside, uncovered, at room temperature on a roasting pan fitted with a rack.
Cook cumin seeds and caraway seeds in a small skillet over medium, stirring often, until toasted and fragrant, 4 to 5 minutes. Transfer to a small bowl; let stand until completely cooled, about 5 minutes.
Place cooled cumin mixture and mustard seeds in a spice grinder; grind into a coarse powder, about 10 seconds. Transfer back to the small bowl and add the paprika, 1 tablespoon of the salt, and 1 1/2 teaspoons of the pepper; stir until combined. Rub mixture evenly over pork shoulder to completely coat and position on the rack in the roasting pan, fat cap up. Let stand at room temperature, uncovered, for 1 hour. Meanwhile, preheat oven to 350°F.
Bake pork, uncovered, until deep golden brown and a thermometer inserted into thickest portion of pork registers 100°F, about 1 hour. Carefully remove roasting pan from oven and move rack with pork to a cutting board (it will go back into the oven shortly). Measure 2 tablespoons rendered pork fat from roasting pan into a large bowl; add potatoes, onion, carrots, parsnips, leeks, 1 teaspoon of the salt, and 1/2 teaspoon of the pepper, and toss to coat. Arrange vegetable mixture in roasting pan around pork; pour beer over vegetables. Position rack with pork over the vegetables, and return roasting pan to oven; bake, uncovered, at 350°F, basting pork with beer mixture in roasting pan every 30 minutes, until a thermometer inserted into thickest portion of pork registers 165°F and vegetables are tender and golden, 1 hour, 30 minutes to 1 hour, 45 minutes more.
Carefully remove roasting pan from oven; transfer pork to a platter. Using a slotted spoon, transfer vegetables to platter around pork; reserve beer mixture in roasting pan. Loosely cover pork with aluminum foil; let rest at room temperature 15 minutes.
Meanwhile, skim and discard fat from pan juices in roasting pan. Pour pan juices through a fine-mesh strainer into a medium bowl. Melt butter in a medium saucepan over medium. Whisk in flour; cook, whisking constantly, until roux is golden and fragrant, about 3 minutes. Whisk pan juices into roux, and whisk together until well combined. Bring to a boil over medium, whisking constantly. Reduce heat to medium-low; simmer, whisking occasionally, until thickened, about 10 minutes. Stir in remaining 1 teaspoon salt and 1/2 teaspoon pepper. Serve pork and vegetables with gravy.