Remember the smell of freshly baked raisin oatmeal cookies when you were little? Chances are, sitting on the counter while your mother was baking them was a red box with the memorable image of a woman in a red bonnet holding a tray of freshly picked grapes.
Since 1916, the Sun-Maid girl has been in the hearts and homes of families across the country and she is receiving a digital makeover for her 90th birthday. In honor of the new, more modern look, celebrity chef Sandra Lee, of "Semi-Homemade" fame, has done a contemporary take on the traditional oatmeal cookie recipe and has helpful tips to freshen up any dessert. "I've been baking raisin oatmeal cookies since I was 9 years old and can still remember the delicious smell and taste from my childhood years. That's why I feel honored to put my own unique spin on this timeless and personally treasured classic."
Using Lee's shortcuts and savory secrets, even the busiest person can deliver marvelous meals, scrumptious snacks and decadent desserts in minutes. Some helpful tips from Lee on making your dessert memorable include:
• Focus on desserts that are big on flavor and low on labor and make sure they go from baking sheet to plate in mere minutes, giving you time to linger with those you love.
• Incorporating raisins and dried fruit into desserts is a great way to get your children to consume some of their daily required helpings of fruit.
• Consider measuring out dry ingredients before preparing desserts. Ingredients such as flour, sugar and nuts can be measured and placed in their own separate sandwich bags beforehand, and when you are ready to start cooking all you'll have to do is simply pour them into a bowl and cook. This is a great way to include kids in the kitchen, too.
• Desserts can be decorative. Place them center stage as an eye-catching edible centerpiece. One idea is to place your raisin oatmeal cookie bars around the rim of a large colorful plate. Place scoops of your guests' favorite ice creams, frozen yogurts and other toppings in the center of the dish, allowing them to create their own scrumptious version of this dessert.
"I remember growing up and baking with my grandmother, who always had Sun-Maid raisins for any occasion from snacking to baking. I do the same today with my nieces and nephews," said Lee. "They love Sun-Maid raisins and I love that they help to make many of my semi-homemade dishes even more delicious."
Try these tempting Spice Raisin Oatmeal Cookie Bars with your family after a fun semi-homemade meal of your own.
Sun-Maid Spice Raisin Oatmeal Cookie Bars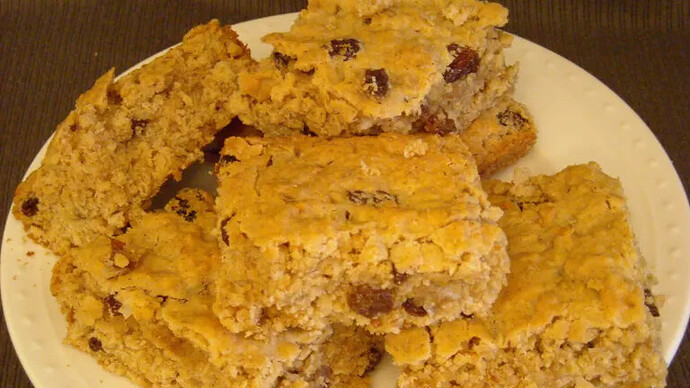 =-=-=-=-=-=-=-=-=-=-=-=-=-=-=-=-=-=-=-=-=-=-=-=-=-=-=-=-=-=-=
Your Coffee, Your Metabolism Made Better with Java Burn
=-=-=-=-=-=-=-=-=-=-=-=-=-=-=-=-=-=-=-=-=-=-=-=-=-=-=-=-=-=-=
You Will Need:
9x13" baking pan
Cooking spray, butter-flavored
Large mixing bowl
Electric mixer
Ingredients:
2 large eggs
1/2 cup vegetable oil
1 teaspoon vanilla extract
1 box (18.25 oz.) spice cake mix
1/2 cup brown sugar
1 cup oats
1 cup Sun-Maid Natural Raisins
1/2 cup pecan pieces (optional)
2 tablespoons to 1/4 cup decorative or coarse sugar (optional)
Directions:
PREHEAT oven to 375 degrees. Spray baking pan with cooking spray; set aside.

COMBINE eggs, vegetable oil and vanilla extract in a large mixing bowl. Use an electric mixer to beat on low, until combined.

ADD spice cake mix and brown sugar. Beat on low until dough comes together. (Dough will be dense.)

STIR in oats, raisins and pecans separately.

SPREAD dough into prepared pan.

BAKE for 20-25 minutes.

REMOVE from oven and let cool. Cut into bars to serve.
Optional: Sprinkle desired amount of coarse or decorative sugar over dough mixture for added decoration before baking.
Yield: 24 bars
Oatmeal cookie bars are an easy, healthy and delicious snack.
Until Next Time… Be Well!
Kind Regards,
RSN
=-=-=-=-=-=-=-=-=-=-=-=-=-=-=-=-=-=-=-=-=-=-=-=-=-=
Your OMAD should be a Vegan Protein Smoothie
=-=-=-=-=-=-=-=-=-=-=-=-=-=-=-=-=-=-=-=-=-=-=-=-=-=