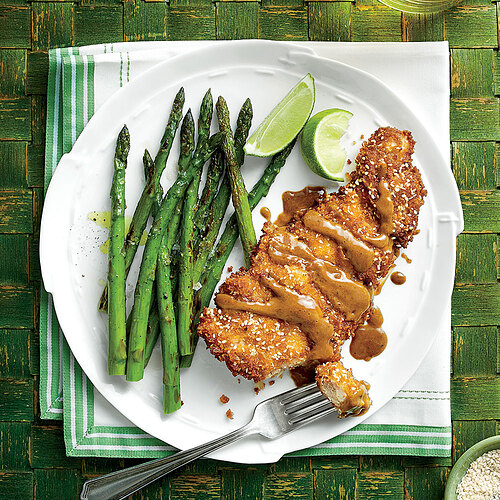 6 skinned and boned chicken thighs
1 1/2 teaspoons kosher salt, divided
1/2 teaspoon black pepper, divided
1/4 cup all-purpose flour
2 large eggs, lightly beaten
2 cups panko breadcrumbs
1/4 cup sesame seeds
1/4 cup canola oil
Peanut Sauce
1/2 cup creamy peanut butter
1/3 cup lite soy sauce
1/4 cup loosely packed fresh cilantro
3 tablespoons fresh lime juice
3 tablespoons honey
3 tablespoons dark sesame oil
Place each chicken thigh between 2 sheets of plastic wrap, and flatten to 1/4-inch thickness,
using a rolling pin or flat side of a meat mallet.
Sprinkle thighs with 1 tsp. salt and 1/4 tsp. pepper.
Place flour in a shallow dish. Place eggs in a second dish.
Stir together panko, sesame seeds, and remaining 1/2 tsp. salt and 1/4 tsp. pepper in a third dish.
Dredge chicken in flour; shake off excess.
Dip in eggs, and dredge in panko mixture, pressing to adhere.
Cook 3 chicken thighs in 1 Tbsp. hot oil in a large nonstick skillet over medium heat 3 minutes.
Add 1 Tbsp. oil, turn chicken, and cook 3 minutes or until done.
Keep warm in a 200° oven.
Repeat procedure with remaining oil and chicken.
Peanut Sauce
Process all ingredients in a blender or food processor until smooth.
Add 1 to 2 Tbsp. water, 1 tsp. at a time, processing until desired consistency is reached.