Crock Pot Recipes For Every Taste
Crock Pot Recipes For Every Taste
Time is tight these days – Wouldn't you like to enjoy a home cooked meal every night?
Well, guess what? You can make delicious meals that your family will love with less effort using a crock pot.
These easy-to-follow crock pot recipes are fool proof and will make dinner as easy as Set It & Forget It!
Discount Cookbook Club Members Get This Cookbook Free (Cookbook Club password required):
(The cookbook club is a paid subscription that is separate from our free recipe forums)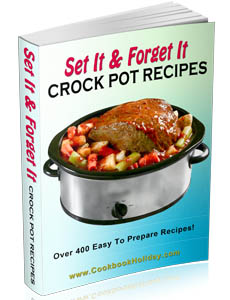 Full Description:
How would you like to come home this evening to a dinner of Barbecue Pulled Pork? Or how about 5-Alarm Chili, Cranberry Pork Chops, Garlic Roasted Chicken, or Lasagna? Maybe a Beef Casserole or Ham and Scalloped Potatoes would satisfy the taste buds. Whatever your families tastes, you're guaranteed to find the perfect crock pot recipe inside Set It & Forget It Crock Pot Recipes
[ul]
Apple Brown Betty
Artichoke & Cheese Dip
Barbecue Chicken
Beef & Peppers
Beef Stroganoff
Black Bean Soup
Cheesy Crockpot Chicken
Corn Chowder
Corned Beef & Cabbage
Eggplant Parmesan
Lemon Pepper Chicken
Luscious Lemon Cheesecake
Teriyaki Chicken Wings
Vegetable Chili
& Over 400 More Crock Pot Recipes!
[/ul]
- Non Members Can Sign Up Here
- Or To Order This Title Separately Click Here