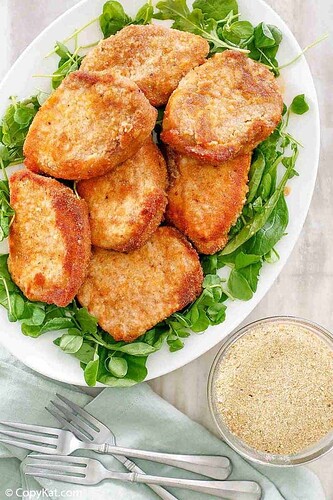 3 cup bread crumbs
1 1/2 teaspoons salt
1/2 teaspoon ground black pepper
1 teaspoon paprika
1/2 teaspoon celery salt
1 teaspoon onion powder
1 teaspoon garlic powder
1 1/2 pounds pork chops
1/4 cup vegetable oil
Preheat oven to 425 degrees.
In a gallon-sized zip top bag, place breadcrumbs, salt, black pepper, paprika, celery salt, onion powder, and garlic powder. Seal the bag and shake gently to mix all ingredients.
Place vegetable oil on a baking sheet. Spread out in a thin layer.
Place one pork chop at a time into the bag, seal the bag, and shake. Place the coated pork chop onto the oiled baking sheet. Repeat with remaining pork chops.
If desired, if there is mix still left over, you can gently sprinkle it onto the breaded pork chops, and pat the seasoned mix into the pork chop. Discard seasoning mix after use.
Bake for 15 minutes, flip over, and cook for the remaining 10 minutes.