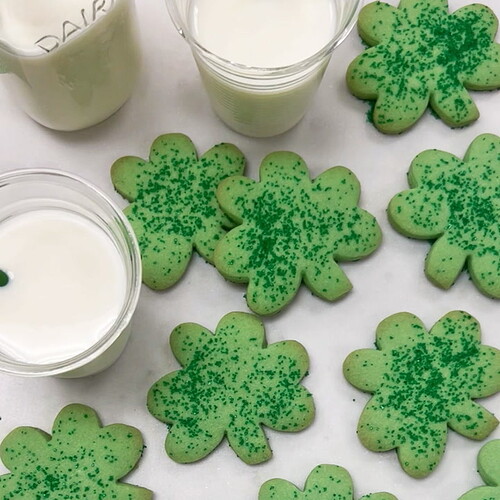 1 cup shortening
1 cup confectioners' sugar
1 large egg, room temperature
1 teaspoon peppermint extract
2-1/2 cups all-purpose flour
1 teaspoon salt
Green paste food coloring
Green colored sugar, optional

Preheat oven to 375°. In a large bowl, cream the shortening and confectioners' sugar until light and fluffy. Beat in egg and extract. Gradually add flour and salt. Tint with food coloring. Cover and refrigerate for 1 hour or until easy to handle.
On a lightly floured surface, roll out dough to 1/4-in. thickness. Cut with a lightly floured 2-in. shamrock cookie cutter. Place cutouts 1 in. apart onto ungreased baking sheets. If desired, sprinkle with colored sugar.
Bake until edges are lightly browned, 10-12 minutes. Cool for 1 minute before removing to wire racks.