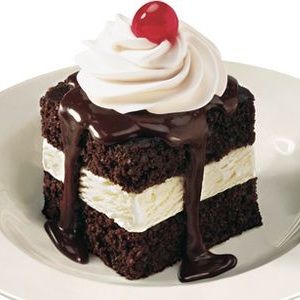 For the Cake
1 package Duncan Hines Devil's Food Cake Mix
3 large eggs
1/2 cup store-bought chocolate syrup, such as Hershey's
1/2 cup cold water
1/3 cup vegetable oil
1 teaspoon vanilla paste or extract
3/8 (scant 1/2 teaspoon) teaspoon kosher salt
1 carton vanilla or vanilla bean ice cream (do not use French vanilla) (Use the rectangular cartons of ice cream)
For the Hot Fudge Sauce
1 14-ounce can sweetened condensed milk
8 oz (by weight) bittersweet chocolate (chips or chopped chocolate)
3 tablespoons water
1 tablespoon corn syrup or dark corn syrup
Heavy pinch of salt
1 teaspoon vanilla paste or extract
Cake Assembly
Lightly sweetened homemade or canned whipped cream
Maraschino cherries drained and patted dry, one per serving
For the Cake
Heat the oven to 350F. Grease a 9"x13" metal cake pan.
(Don't use glass, because you want the cake to have straight sides)
Line the bottom of the pan with parchment, and spray lightly.
Set aside.
Combine cake mix and the rest of the cake ingredients in a large bowl.
With a hand mixer, mix on low speed for about 30 seconds. Scrape the bowl.
Mix on medium speed for 2 minutes, scraping bowl as necessary.
Pour into the prepared pan and smooth the batter.
Bake for 22-25 minutes or until cake springs back when pressed lightly and the cake starts to shrink away from the sides of the pan.
Remove to a rack to cool for 10 minutes.
Then turn out onto a cooling rack. Peel off the parchment and let the cake cool completely.
To Make the Fudge Sauce
Combine all ingredients except vanilla in a heavy-bottomed saucepan.
Heat on medium heat, stirring constantly until all the chocolate has melted.
Stir in the vanilla after you have removed the pan from the stove.
This way the vanilla will not evaporate.
Keep warm (or reheat) for serving.
To Assemble
Level the top of the cake if necessary with a knife.
You want the cake pieces to have the same thickness so it looks uniform when served.
Carefully slice the cake in half horizontally.
Leave the halves in place.
Each half should be about 3/4 inch thick.
Cut the cake in half, short-wise.
You will end up with 4 rectangles of cake, each about 9" x 6".
Set half the cake aside (for another use or to repeat the assembly process depending on how much hot fudge cake you want).
Spread 2 long, overlapping sheets of plastic wrap on the counter.
Place the bottom rectangle of cake on the wrap.
Peel off the cardboard from around the ice cream.
Slice the ice cream into 3/4" slices and arrange them, touching, on top of the cake layer.
You will have to trim some to fit.
You will probably not use all the ice cream, so put the leftover portion in a freezer container to eat later.
Place the second rectangle of cake on top of the ice cream and press down lightly.
Wrap the cake in the plastic wrap and freeze for at least 2 hours.
To Serve
Slice the Cake into 6 squares, each approximately 2" per side.
Pour some of the fudge sauce over, top with whipped cream and a cherry.