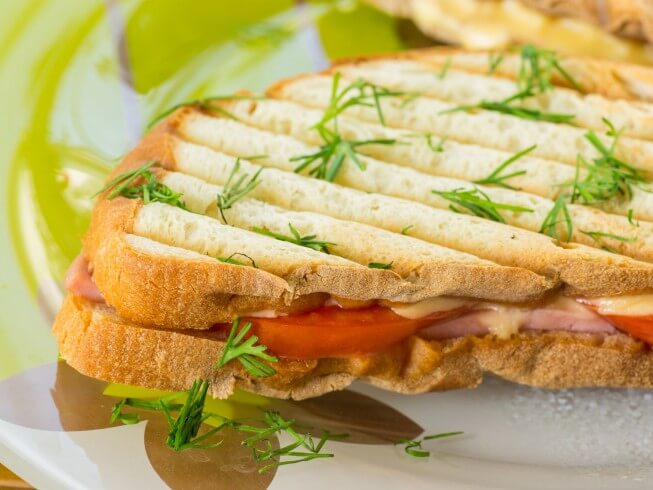 6 ounces thinly sliced Virginia baked ham
3 ounces thinly sliced natural Swiss cheese
1 (6- or 8-inch) hoagie or sub-style sandwich roll
4 thin tomato slices
shredded lettuce
sandwich sauce or Thousand Island salad dressing
1 tablespoon butter or margarine, softened
Heat a griddle or large skillet over medium-high heat.
Butter the inside of the sandwich roll, both top and bottom, and lightly brown on the griddle.
Remove bread from griddle.
On the bottom of the sandwich roll arrange (in order) ham, cheese, lettuce, tomato.
Spread the top of the roll with sandwich sauce and place on top of the assembled sandwich.
Place sandwich on griddle (bottom down) and weight with a heavy metal pan lid. Grill sandwich until the cheese melts. Cut in half, garnish with a dill pickle spear and serve with potato chips or hand-cut french fries.