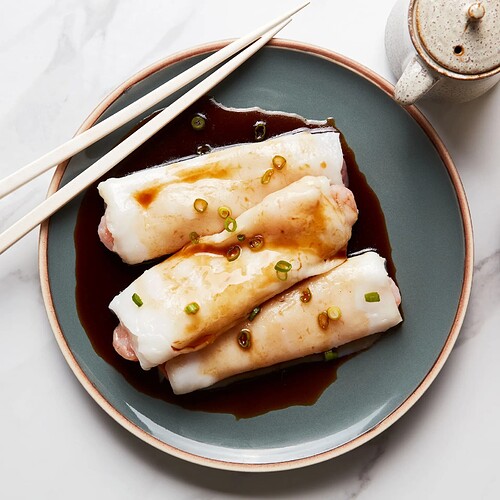 Rice rolls:
1½ cups rice flour
3 tablespoons tapioca starch
1 tablespoon wheat starch
1 tablespoon potato starch
½ teaspoon salt
2½ cups lukewarm water
Neutral oil for greasing the pan
18 medium to large or 36 small shrimp, peeled, deveined, and patted dry
Sweet dipping sauce:
½ cup light soy sauce
¾ cup dark soy sauce
¾ cup sugar
1 cup water
1½ teaspoons oyster sauce
1½ teaspoons chicken powder (such as Lee Kum Kee)
Rice rolls:
Sift the rice flour, tapioca starch, wheat starch, potato starch, and salt into a large bowl. Mix in the lukewarm water, stirring until a consistency of very thin glue is reached.
When ready to cook, mix again until there are no clumps. Using a brush, generously oil a rimmed eighth sheet pan. Using a ladle, pour just as much batter in the pan as needed to form a thin, even layer. (The thinner you can keep your roll, the better.) Put 3 medium to large or 6 small shrimp onto each roll, placing them 1 inch from one narrow edge.
Set up a 12-inch steamer: Fill a wok with enough water to come up to the lower rim of a steamer but not so much the waterline is above the food bed. (If you do want to DIY it, just use a plate in a pot. Fill a pot with ½ an inch of water. Then make a sort of tripod out of tinfoil by forming three golf ball– sized balls and placing them in the bottom of the pot, making sure their tops rest above the water- line. Rest the plate on the tinfoil, cover, and steam.) Bring water to a boil.
Place the sheet pan in the steamer, cover, and steam for 6 minutes, or until you see bubbles on top of the mixture. If you need more water— water tends to evaporate—add boiling, not cold, water so as not to stop the steaming.
Carefully remove the sheet pan from the steamer and set on a work surface (it will be hot, so be prudent). Let cool for a minute or so. Then, using a bench scraper, start rolling the rice roll from the top of the pan away from you until folded into a loose roll. Cut in half widthwise.
Brush the pan with oil again and repeat until you've used up all the batter.
When ready to serve, briefly re-steam the rolls for 1 to 2 minutes until hot.
Sweet dipping sauce:
Heat a small saucepan to medium-low heat and add all ingredients. Stir until sugar and chicken powder are dissolved. Spoon atop rice rolls.