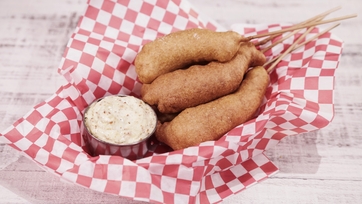 4 quarts canola oil (for frying)
Mustard Aioli
2 large egg yolks
2-3 tablespoons warm water
1 clove garlic (grated)
1/2 lemon (juiced)
1 tablespoon grainy mustard
1 teaspoon Dijon mustard
1 cup canola oil
Kosher salt and freshly ground black pepper (to taste)
Cornmeal Batter
3 cups yellow cornmeal
1 1/2 cups all purpose flour
1 1/4 teaspoon baking soda
1 1/4 teaspoon Kosher salt
1 tablespoon sugar
1 1/2 cups buttermilk
1 1/4 cups water (plus more if needed)
1 egg
Shrimp
1 1/2 pounds jumbo shrimp (peeled, deveined, tails removed)
3 tablespoons cornstarch
Kosher salt and freshly ground black pepper (to taste)
1 pack skewers (8-inch)
In a large Dutch oven, heat the oil to 360ºF. Place a rack inside a baking sheet.
In the carafe of a blender add the egg yolks and warm water and blend to combine. Add garlic, lemon juice, grainy mustard, and Dijon mustard, and blend to combine. While the blender is running, slowly drizzle in the oil until the mixture becomes thick and creamy. Season with salt and pepper. Refrigerate until ready to use.
In a large bowl, add the cornmeal, flour, baking soda, salt, and sugar, and whisk to combine. In another large bowl, add the buttermilk, water, and egg, and whisk to combine. Add the wet mixture to the dry mixture and mix to combine. Let rest for 5 minutes. If the batter seems too thick, add a few tablespoons of water. Pour the batter into a large bowl and set aside.
On a skewer, thread one shrimp lengthwise, keeping as straight as possible. Continue to skewer all of the shrimp on individual skewers and place the finished shrimp skewers on a baking sheet. Season with salt and pepper. Roll each skewered shrimp in the cornstarch, shaking off any excess, then dip into the batter.
Add the shrimp to the oil and fry until golden brown and crispy, about 3 minutes. Remove to the rack. Season with salt. Serve with mustard aioli.
Tip: If serving at a party, keep corndogs warm on a baking rack fitted in a baking sheet in a 200ºF oven.
Michael Symon
The Chew