Indulge your taste buds and prepare for a flavor sensation like no other as we dive into the mouthwatering world of Slims' Chickens' Chicken and Waffles!
Picture this: tender, crispy fried chicken paired with fluffy, golden waffles, creating a heavenly combination that dances on your palate. Get ready to embark on a culinary adventure that brings together the perfect harmony of savory and sweet, where each bite takes you on a journey of pure bliss.
Enjoy!
CHICKEN & WAFFLES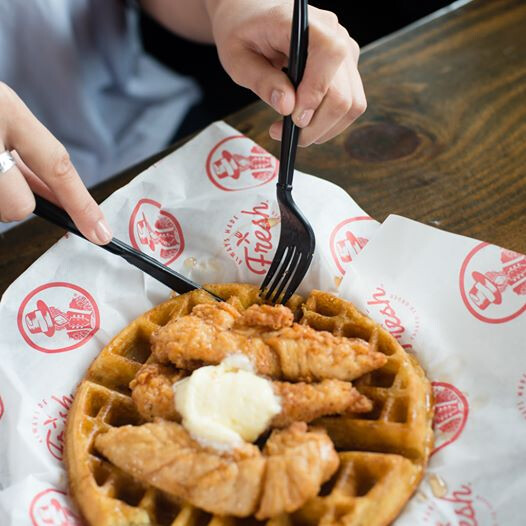 INGREDIENTS:
You favorite waffle mix or Belgian style frozen waffles
vegetable oil
1 large egg, lightly beaten
1 lb. chicken tenders (approx. 8)
3/4 c flour
1 t poultry seasoning
salt & pepper to taste
butter
Maple syrup
CHICKEN:
Heat about 1-inch of oil in a large cast iron, or heavy-bottomed skillet over high heat. Whisk the egg in a medium bowl; toss the chicken in the mixture to coat.

Combine the flour, poultry seasoning, and salt and pepper to taste in a medium bowl. Dredge the chicken in the seasoned flour until coated, shaking off any excess.

Place the chicken in the hot oil and fry until golden and cooked through, 2 to 3 minutes each side, turning once. Transfer to a rack to cool slightly.
WAFFLES:
Preheat waffle iron to the regular setting. Make waffle mix and scoop batter into waffle iron in batches and cook according to directions, or until waffles are deep golden brown and crispy. If using frozen waffles, cook according to package instructions.

Place a waffle on each plate, top each with a pat of butter and drizzle with maple syrup. Top with chicken.
Until Next Time… Be Well!
RSN