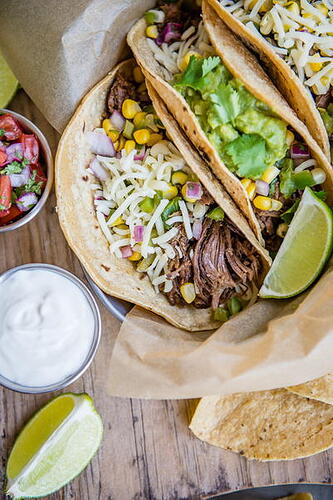 2 teaspoons kosher salt, divided
3-4 pound chuck roast, fat trimmed
2 tablespoons extra virgin olive oil
2 bay leaves
Sauce
¼ cup apple cider vinegar
6 cloves garlic
4 teaspoons ground cumin
1 tablespoon dried oregano
1 teaspoons ground black pepper
1/8 teaspoon ground clove
4 chipotle peppers (from a can, packed in adobo sauce)
1 tablespoon adobo sauce (from the chipotle pepper can)
1 cup chicken broth (or 1 cup water and 1 teaspoon chicken base)
¼ cup fresh lime juice
Prepare roast. Make sure all visible fat is trimmed. Cut into 8 chunks. Sprinkle all sides of cut beef with ½ of the salt (1 teaspoon), reserving the remaining 1 teaspoon. Set aside.
In a blender or food processor combine the sauce ingredients. Blend until smooth. Set aside. If you do not have a food processor or blender, see cook's note.
Warm a heavy bottom pot over medium high heat, until water dripped over top sizzles. Add oil. Sear all sides of cut beef. Once all sides are seared, place seared beef into slow cooker. Set slow cooker temperature to high. Pour sauce over top. Add bay leaves. Cook for 5-6 hours on high (or 8 hours on low) covered.
After about 5 hours (or 7 hours on low) shred beef using 2 forks to pull it apart. Taste, and add additional teaspoon of salt (as needed), stir to completely coat in sauce. Cover and cook for 1 more hour. After this time you can serve and enjoy or turn slow cooker to warm until ready to serve.
To create burrito: Layer pico de gallo, Cilantro Lime Rice, Jalapeno Lime Corn Salad and Barbacoa on a large flour tortilla. Additional toppings of Guacamole, sour cream and cheddar cheese are also exceptional.
Serves 12
Pico de Gallo (makes about 4 cups)
6 large plum tomatoes
1/2 medium white onion, finely diced
1/2 bunch cilantro, chopped
2 jalapeños, seeded, and finely diced
2 cloves garlic, minced
2-4 Tablespoons freshly squeezed lime juice
1/2 teaspoon kosher salt, more to taste
Core, quarter, and remove the seeds from the tomato. Place the tomato quarters flesh side down on a double thickness of paper towels to drain.
To cut the tomatoes, julienne each quarter, turn, and finely dice. Add the tomatoes to the bowl. Add the onion, cilantro, jalapeños, and garlic to the bowl. Toss to combine. Add the salt and lime juice to taste and toss again.
Allow the flavors to develop at room temperature for at least 30 minutes before serving.
Pico de gallo can be made in one day in advance; covered and refrigerated. Bring to room temperature before serving.
Cilantro Lime Rice
2 cups water
1 cup long-grain jasmine rice
1 bay leaf
1 teaspoon kosher salt
1 tablespoon canola oil (or any flavorless oil)
1 tablespoon finely chopped cilantro
1 tablespoon fresh lime juice
2 teaspoon fresh lemon juice
1 teaspoon orange juice
In a medium saucepan over high heat bring water to a boil. Add rice, bay leaf and salt. Stir to coat rice. Return to a boil. Once it is a full rolling boil, reduce to simmer and cover for 15 minutes. Remove from heat, leave covered for 5 minutes.
Remove bay leaf. Fluff rice with a fork, add the oil, cilantro, and juices. Stir to combine.
Jalapeno Lime Corn Salad
1 lb supersweet yellow corn
2 jalapenos, very finely chopped (de-veined and de-seeded)
½ cup finely diced red onion
¼ cup chopped fresh cilantro
Juice of 1 lime
Juice of 1 small lemon
1½ tsp kosher salt
¼ tsp pepper
Mix all the ingredients together and let sit for an hour to let the flavors meld together.
Guacamole
1 medium jalapeño, (deseeded, deveined and minced)
¼ cup fresh minced red onion
2 tablespoons chopped cilantro
8 ripe avocado
1 tablespoon fresh lemon juice
1 teaspoon fresh lime juice (a squeeze)
1 teaspoon kosher salt
Add jalapeño, onion and cilantro in a medium size bowl. Slice avocados in half and place one pit in the bowl. Scoop out avocado and add to bowl. Add lemon and lime juices and salt. Use a fork to mash avocado to preferred consistency.
Cover avocado pit with guacamole to keep it from oxidizing (it really works) and press plastic wrap on to top of guacamole until ready to serve.
makes approximately 2 1/2-3 cups, serves 10 - 1/4 cup servings
Cook's note: to prepare the sauce without a blender, mince the garlic and chipotle peppers. Combine sauce ingredients in a bowl and mix until well combined.