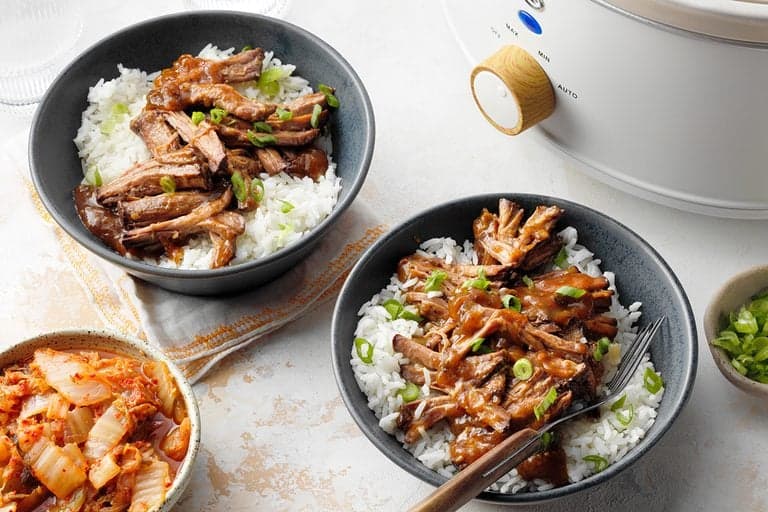 1/2 cup packed brown sugar
1/3 cup gluten-free tamari soy sauce
1/4 cup Sriracha chili sauce
3 tablespoons minced garlic
3 tablespoons minced fresh gingerroot
2 tablespoons rice vinegar
1 tablespoon fish sauce or additional soy sauce
1 tablespoon sesame oil
1/2 teaspoon crushed red pepper flakes
1 boneless beef chuck roast (4 pounds)
1 medium onion, chopped
4 tablespoons cornstarch
1/4 cup reduced-sodium beef broth
Step 1: Make the marinade
In a bowl, use a whisk to combine the first nine ingredients into a marinade.
Step 2: Put the ingredients in the slow cooker
Place the beef roast and chopped onions in a 5- or 6-quart slow cooker. Top it with the marinade. Cover and cook on low until the beef is tender, about 9 to 10 hours.
Step 3: Add the roux to the slow cooker
In a small bowl, mix the cornstarch and beef broth until smooth. Gradually stir the roux into the slow cooker. Continue to cook, covered, on high until the sauce thickens, about 30 minutes.
Step 4: Serve the beef
To serve this slow-cooker Korean beef, transfer it to a cutting board and then use two forks to shred the meat. Place the shredded meat in a serving dish and pour the marinade from the slow cooker on top. Garnish with sliced green onions, if desired.