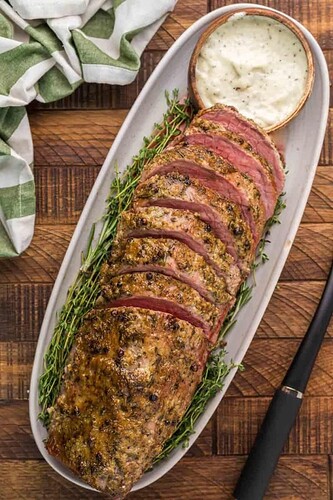 Roast:
4 pound eye of round roast
2 tablespoons extra virgin olive oil
2 tablespoons mayonnaise
1 tablespoon horseradish
5 garlic cloves
1 shallot
½ tablespoon peppercorns
1 teaspoon coarse sea salt
1 tablespoon fresh rosemary leaves
1 tablespoon fresh thyme leaves
Horseradish Sauce:
1 cup mayonnaise
2 tablespoons horseradish
1 teaspoon garlic paste or fresh minced garlic
½ teaspoon ground black pepper
½ teaspoon salt
Preheat the smoker to 225°F for 15 minutes with the lid closed.
Blot roast with a paper towel to dry. This will help the paste to adhere as it smokes.
Add olive oil, mayonnaise, horseradish, garlic cloves, shallot, peppercorns, sea salt, rosemary, and thyme leaves to a food processor or blender and blend into a paste, about 30 seconds.
Coat the roast with the paste.
Place roast directly onto the smoker grates. Smoke until internal temperature reaches 125°F. Cooking times may vary, so it is important to go by the temperature rather than the time. For me, this took just under 4 hours.
Remove the roast from the smoker and place it on a wooden cutting board. Drape a sheet of foil over the top and form into a tent over the roast. Allow the meat to rest for 30 minutes before slicing. The meats temperature will rise 7 to 10 degrees as it rests. Aim for medium-rare for this cut of meat as it can get tough if cooked too long.
Place the sauce ingredients in a bowl. Whisk until combined well.
Thinly slice the roast and serve it with horseradish sauce on the side.