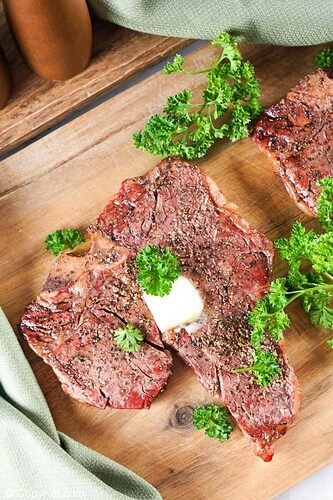 2 porterhouse steaks You can substitute your favorite cut of steak
salt & pepper
2 tablespoons salted butter unsalted is ok to use
2 teaspoons parsley
Allow your steaks to come to room temperature if not already there. You can salt the steaks before they reach room temperature, as this will make them extra tender.
Preheat your pellet smoker to 165 degrees. This usually takes around 15 minutes, depending on the smoker.
Sprinkle the steaks with salt and pepper on both sides.
Place steaks in the smoker and cook for about 45 minutes (or until the internal temperature reaches 110 degrees.)
Turn the smoker up to 500 degrees and let it smoke for another 15 minutes or until the internal temperature reaches 135 degrees (for medium-rare steak). See notes if you like your steak less or more cooked.
Top with a pat of butter and some parsley.