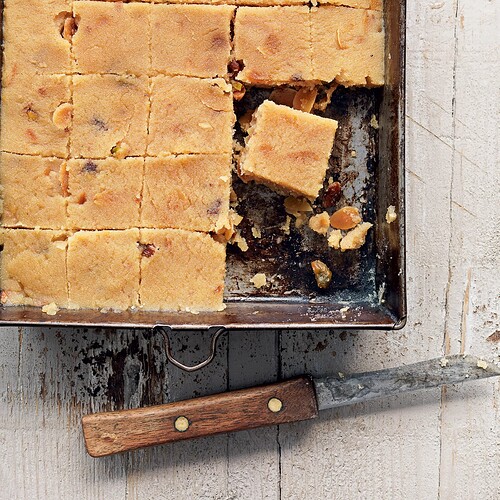 4 tablespoons ghee
2 tablespoons flaked almonds
2 tablespoons raw, shelled pistachios, cut into slivers lengthwise
½ cup sooji (Indian semolina)
⅓ cup sugar
¼ teaspoon ground cardamom
Put the ghee in a medium nonstick frying pan and set over medium-low heat. When hot, add the almonds and pistachios, and stir just until the almonds turn golden. Using a slotted spoon, quickly transfer the nuts to a plate.
Put the sooji into the ghee remaining in the pan and fry over low heat for 6–7 minutes, stirring now and then, until it is golden. Add the sugar and mix well. Add 1½ cups water, the ground cardamom, and the reserved nuts, and bring to a simmer over medium-low heat. Stir and cook over very low heat for 2–3 minutes, then turn off the heat and stir for another minute. Serve hot.
If you prefer, you could put the halva into a 7x7-inch cake pan or similarly shaped dish. Press down lightly and flatten the surface, then cut into 1½-inch squares. When it has cooled to room temperature, place plastic wrap directly on the surface of the cake to stop a skin forming. Serve immediately or later, as you would any cake.