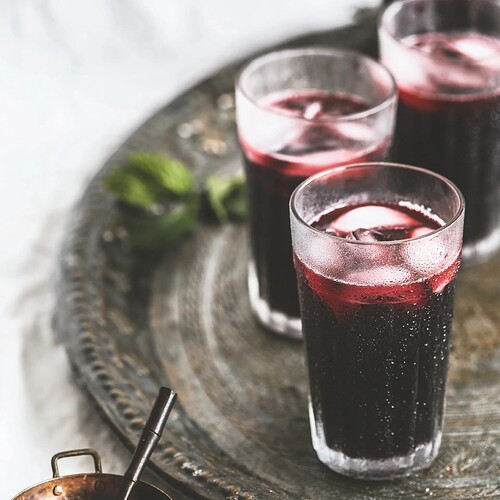 2 cups dried hibiscus (sorrel) flowers
1⁄3 cup peeled fresh ginger slices (¼ inch thick)
2- to 3-inch cinnamon stick
6 whole cloves
¼ cup grated orange zest
Grated zest and juice of 1 lemon
Demerara sugar, honey, or agave nectar
Mint leaves, for garnish
In a large saucepan, bring 2 quarts water, the hibiscus, ginger, cinnamon, cloves, and orange and lemon zests to a boil over medium heat. Boil for 5 minutes. Remove from the heat. Add the lemon juice, cover tightly, and let stand for 1 to 2 days at room temperature. Strain and discard the solids. Sweeten to taste with demerara sugar, honey, or agave nectar. Chill thoroughly. Serve over ice and garnish with mint.