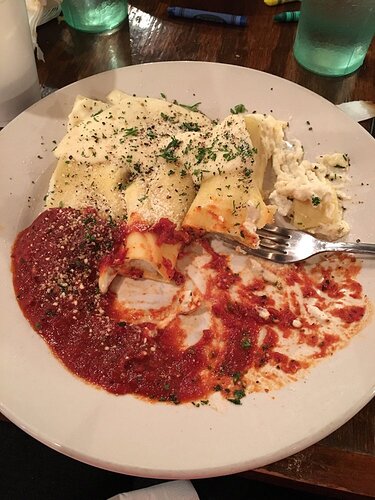 30 ounces tomato puree
15 ounces crushed tomatoes
15 ounces tomato paste
2 teaspoons chopped garlic
1/2 chopped onion
1 1/2 tablespoons Italian seasoning
1/2 teaspoon Tabasco sauce
1 cup cooking sherry
2 teaspoons Sea Salt
1/4 cup sugar
1 standard manicotti cooked per directions on package
15 ounces Ricotta cheese
1 egg
1 cup grated Parmesan cheese
2 cups finely shredded Italian cheese blend
2 cups Mozzarella cheese
In large saucepan or stockpot, mix tomato puree, crushed tomatoes and tomato paste.
Add chopped garlic, chopped onion, Italian seasoning, Tabasco Sauce, cooking sherry and sea salt and mix thoroughly.
Allow sauce to cook for approximately 1 hour and then taste.
If desired, add some or all of the sugar (sugar reduces the "tang" of the tomatoes).
Continue cooking sauce on low heat for several more hours (ideally and for a richer blend of the seasonings, sauce should be refrigerated overnight and cooked for an additional 2-3 hours the following day for optimal flavor).
Thoroughly cook ground beef and drain (rinse with water if necessary to remove all grease).
Cook pasta according to the package directions, drain and allow to cool, separately, on wax paper.
In a separate mixing bowl, blend Ricotta cheese, egg, grated parmesan and the shredded Italian cheese blend until thoroughly mixed.
Using the butter knife, begin to stuff the manicotti shells with cheese mixture until all is used. In a large baking pan (a lasagna pan is best), spread a layer of sauce that completely covers the bottom of the pan.
Align the stuffed manicotti shells in the pan atop the sauce.
Use remaining sauce to completely cover the pasta.
Use as much or as little as desired of the mozzarella shredded cheese to cover.
Bake in a 350-degree oven until cheese bubbles and begins to turn a golden brown.
Remove, cool, and serve.