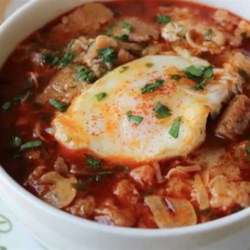 6 cups cubed French bread
1 tablespoon extra-virgin olive oil
1/4 cup extra virgin olive oil
6 cloves garlic, very thinly sliced, or more to taste
2 ounces ham, diced
1 teaspoon paprika, or more to taste
6 cups chicken broth, or more as needed
1 pinch cayenne pepper, or to taste
salt and ground black pepper to taste
1/4 cup chopped fresh flat-leaf parsley
4 large eggs
Preheat oven to 350 degrees F (175 degrees C). Line a baking sheet with aluminum foil.
Spread French bread onto the prepared baking sheet and drizzle 1 tablespoon olive oil over the top; gently stir to coat bread.
Bake in the preheated oven until crispy and lightly browned, 15 to 20 minutes.
Heat 1/4 cup olive oil in a heavy pot over medium heat. Cook and stir garlic in hot oil until just golden, 1 to 2 minutes. Add ham; cook and stir until heated through, about 1 minute. Add paprika and cook for 1 minute more. Pour bread into pot and toss to coat with hot oil mixture.
Pour chicken broth into bread mixture; add cayenne pepper, salt, and black pepper and stir. Bring to a boil, reduce heat to medium, and stir in parsley.
Crack each egg into a small bowl or cup. Make 4 depressions in the bread on top of the soup with a spoon. Slowly pour an egg into each depression. Cover the pot with a lid and cook until egg whites are firm and yolks are thick but not hard, 2 to 3 minutes. Ladle soup into bowls and spoon an egg on top.
Chef John