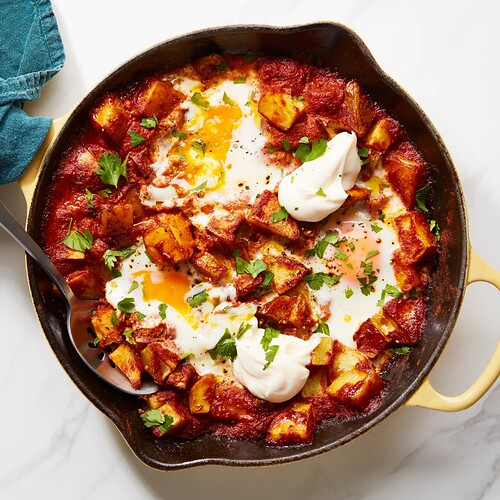 3 Tbsp. plus 2 tsp. olive oil, divided
1½ lbs. Yukon gold potatoes (about 3 medium), cut into 1-inch pieces
1¾ tsp. kosher salt, divided
1 medium onion, roughly chopped
3 cloves garlic, roughly chopped
2–3 chiles from a can of chiles in adobo, depending on your preferred spice level, roughly chopped, plus 2 Tbsp. sauce from the can
1 medium tomato, roughly chopped
1 Tbsp. tomato paste
½ tsp. smoked paprika
½ tsp. ground cumin
2 Tbsp. sherry vinegar
Freshly ground black pepper
3 large eggs
Chopped parsley and mayonnaise, for serving
Preheat oven to 450°F. Place potatoes on a sheet pan and drizzle with 2 Tbsp. olive oil and season with 1 tsp. kosher salt. Toss to coat. Spread into an even layer and roast, tossing halfway through, until tender and starting to brown, 25 minutes.
While the potatoes roast, in a large, oven-safe skillet, heat 1 Tbsp. olive oil over medium-high. Add onion and cook, stirring occasionally, until slightly softened, about 4 minutes. Add garlic and cook, stirring occasionally, until fragrant, about 1 minute. Add chiles, sauce, tomato paste, paprika, and cumin and cook, stirring frequently, until the onions are coated and the mixture has darkened slightly, 1 to 2 minutes. Turn off heat and immediately add sherry vinegar; scrape up any browned bits on the bottom of the pan and stir to combine.
Transfer the onion-chiles mixture to a food processor or blender (reserve the pan; there's no need to wash it). Add the tomato and season with black pepper and ¾ tsp. salt. Pulse, scraping down the sides of the food processor as needed, until the mixture forms a mostly smooth, thick paste.
Reduce oven temperature to 375°F. Transfer roasted potatoes to the reserved skillet; add the sauce and stir to thoroughly coat. Use a spoon or spatula to create three wells in the potato mixture; drizzle 2 tsp. olive oil between the three wells. Crack an egg into each well and season with salt and pepper. Bake until the whites of the eggs are set but the yolk is still runny, about 6–8 minutes. Top with chopped parsley and mayonnaise before serving.