There is a wonderful variety of Cuban food available such as coffee, fruits & jellies, rice dishes, sauces, spices, teas, meats, seafood, desserts, cookies & crackers. If you wish to explore the tastes of light and dark coffee and cappuccino; try Café Bustelo, Café Pilon, Café El Pico and several others.
Fruits like Mango and Guava are a favorite in Cuban culture and are used for a variety of fruit dishes and jellies such as Conchita Guava Shells, La Cubanita Mango Cream and La Fe Guava Paste.
Rice dishes are very popular, including those produced by Goya; Paella Dinner, Rice & Black Beans, Rice & Pigeon Peas and tasteful Yellow Rice. Several sauces and spices add variety to the meals. Brands include Badia, Batey, Conchita and Goya. There is a little bit of everything to add Cuban flavor to your meals.
Even meats can be purchased, Goya Chorizos (sausages), Pamplona Mussels in Brine, Pamplona Octopus in Oil and Sauce.
For dessert, there is Goya Flan, Majarete and Tembleque. Enjoy a variety of Gilda and La Estrella crackers and cookies with a cup of your favorite coffee or tea. Teas are a favorite in the Cuban food line; several varieties from Chamomile to Mango are available.
Declare an International Food night and include the Cuban dish below.
=-=-=-=-=-=-=-=-=-=-=-=-=-=-=-=-=-=-=-=-=-=-=-=-=-=-=-=-=-=-=-=-=-=
Enjoy Delicious Bread, Sandwiches and Pizza with the Paleo Hack
=-=-=-=-=-=-=-=-=-=-=-=-=-=-=-=-=-=-=-=-=-=-=-=-=-=-=-=-=-=-=-=-=-=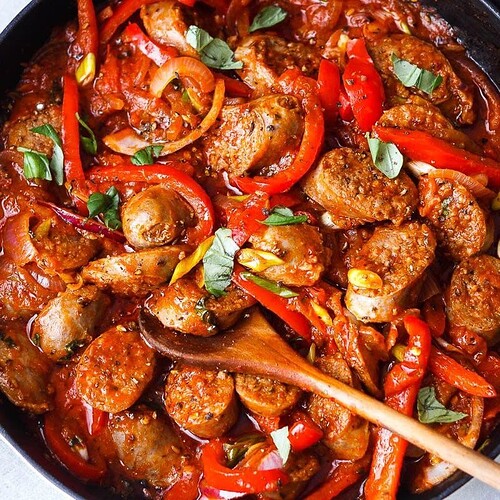 Spanish Sausage and Peppers
Ingredients:
1 Goya Chorizo Sausage
Olive Oil
1 Pepper (Your choice of sweet, red, cayenne, chili, etc.)
Sherry vinegar
Fresh parsley, roughly chopped
Directions:
Chop sausage into bite size chunks. Put olive oil into a frying pan and fry sausage on high heat. Let the fat from the sausage come out into the oil.

Cut the pepper into bite size squares. Turn the sausage and add the pepper to the pan. Add a splash of vinegar and the parsley and then mix everything.

Skewer pieces of sausage and pepper with toothpicks and put onto a warm plate and serve.
Until Next Time… Be Well!
Kind Regards,
RSN