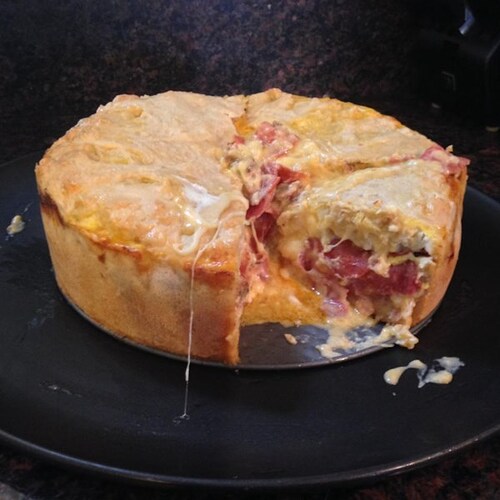 1/2 pound bulk Italian sausage
olive oil
1 (1 pound) loaf frozen bread dough, thawed
1/2 pound sliced mozzarella cheese
1/2 pound sliced cooked ham
1/2 pound sliced provolone cheese
1/2 pound sliced salami
1/2 pound sliced pepperoni
1 (16 ounce) container ricotta cheese
1/2 cup grated Parmesan cheese
8 eggs, beaten
1 egg
1 teaspoon water
Cook and stir Italian sausage in a skillet over medium heat, breaking the sausage into crumbles as it cooks, until well browned, 5 to 8 minutes. Drain excess grease; set sausage aside.
Preheat oven to 350 degrees F (175 degrees C).
Oil the bottom and sides of a 10-inch springform pan with olive oil.
Cut 1/3 of the dough off the loaf and set aside under a cloth. Form the remaining 2/3 dough into a ball and roll into a 14-inch circle on a floured work surface.
Line the springform pan with rolled dough, allowing dough to hang over the edge by 2 inches all around.
Layer half the cooked Italian sausage, half the mozzarella cheese, half the ham, half the provolone cheese, half the salami, and half the pepperoni into the pie crust.
Spoon and spread half the ricotta cheese over the layers of meat and cheeses.
Sprinkle half the Parmesan cheese over the ricotta.
Pour half the 8 beaten eggs over the layers; continue layering the remaining meats, sliced cheeses, ricotta cheese, and then Parmesan cheese.
Pour remaining beaten eggs over the last layer of Parmesan cheese.
Roll out remaining piece of bread dough to a circle about 12 inches in diameter; lay the piece over the pie to form the top crust. Roll and pinch the bottom crust overhang over the top crust to seal in the filling.
Beat 1 egg with water in a small bowl; brush the top of the pie with egg wash.
Bake pie in the preheated oven until the crust is golden brown and the filling is set, 50 to 60 minutes. A toothpick inserted into the middle of the crust should come out without raw egg.
Allow pie to cool in the pan for at least 25 minutes before releasing the spring and removing pie from the pan. Transfer to a serving platter and cut into wedges for serving.
Cook's Note:
In many traditional Italian homes this recipe calls for the addition of hard-boiled eggs. They can be added to this recipe - simply slice 4 hard boiled eggs and layer with the meats and cheeses; bake like normal.
Aluminum foil can be used to keep food moist, cook it evenly, and make clean-up easier.