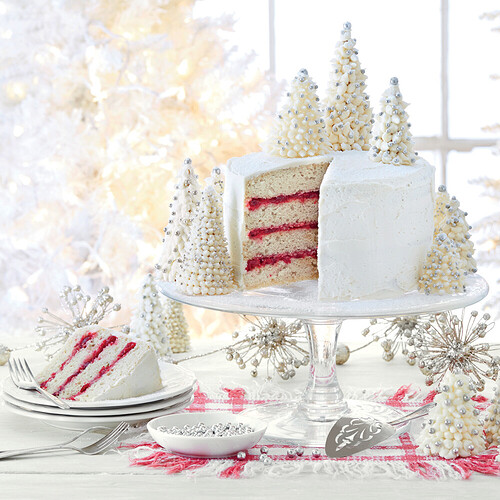 Cranberry Filling
2 cups fresh or frozen whole cranberries
1 cup granulated sugar
3 tablespoons fresh orange juice
2 tablespoons cornstarch
1 tablespoon cold water
1/2 cup chopped fresh or frozen cranberries
2 tablespoons butter
Cake Layers
1 cup butter, softened
2 cups granulated sugar
4 large eggs
3 cups all-purpose flour
2 teaspoons baking powder
1 teaspoon ground cinnamon
1/2 teaspoon table salt
1/2 teaspoon baking soda
1/2 teaspoon ground ginger
1/4 teaspoon ground nutmeg
1 1/2 cups buttermilk
2 teaspoons vanilla extract
Shortening
4 (8 1/2-inch) round disposable foil pans
Apple Cider Frosting
1 cup apple cider
1 cup butter, softened
1/4 teaspoon table salt
1 (32-oz.) package powdered sugar
2 teaspoons vanilla extract
4 to 5 Tbsp. whole milk
Prepare Filling: Stir together first 3 ingredients in a small saucepan. Whisk together cornstarch and cold water in a small bowl until smooth. Stir cornstarch mixture into cranberry mixture, and cook over medium-low heat, stirring often, 4 to 5 minutes or until cranberries begin to pop and mixture comes to a boil. Cook, stirring constantly, 1 more minute or until thickened and translucent. Stir in chopped cranberries and 2 Tbsp. butter, and cook, stirring constantly, 1 minute or until butter is melted. Remove from heat, and cool completely (about 30 minutes). Cover and chill 8 to 24 hours.

Prepare Cake Layers: Preheat oven to 350°. Beat 1 cup butter at medium speed with a heavy- duty electric stand mixer until creamy. Gradually add 2 cups granulated sugar, beating until light and fluffy. Add eggs, 1 at a time, beating just until blended after each addition.

Whisk together flour and next 6 ingredients until well blended. Add flour mixture to butter mixture alternately with buttermilk, beginning and ending with flour mixture. Beat at low speed just until blended after each addition. Stir in 2 tsp. vanilla extract. Pour batter into 4 greased (with shortening) and floured 8 1/2-inch round disposable cake pans.

Bake at 350° for 18 to 20 minutes or until a wooden pick inserted in center comes out clean. Cool in pans on wire racks 10 minutes; remove from pans. Cool completely on wire racks (about 1 hour).

Meanwhile, prepare Frosting: Cook cider in a small saucepan over medium heat, stirring often, 10 to 15 minutes or until reduced to 1/4 cup. Cool completely (about 20 minutes).

Beat 1 cup butter and 1/4 tsp. salt at medium speed with a heavy-duty electric stand mixer until creamy. Gradually add powdered sugar alternately with reduced apple cider, 2 tsp. vanilla, and 4 Tbsp. milk, beating well after each addition. If needed, add up to 1 Tbsp. milk, 1 tsp. at a time, and beat until desired consistency is reached.

Place 1 cake layer on a cake plate or platter. Spoon 1 cup Apple Cider Frosting into a zip-top plastic freezer bag. Snip 1 corner of bag to make a small hole. Pipe a ring of frosting around cake layer just inside the top edge. Spread cake layer with about 2/3 cup chilled Cranberry Filling, spreading to edge of piped frosting. Repeat with 2 more layers. Top with remaining cake layer. Spread remaining frosting over top and sides of cake. Garnish with decorated sugar cones (instructions below), if desired.
Cake Garnish How-to: 1. Let 6 to 10 sugar cones stand at room temperature, uncovered, 24 hours. Cut bottom from several cones to make trees of varying heights. 2. Prepare an extra batch of Apple Cider Frosting. Using 1 cup at a time, place frosting in a zip-top plastic freezer bag. Snip 1 corner of bag to make a 1/4-inch hole. Pipe small dots of frosting onto each cone, starting at bottom and lifting up to create a snowy branch effect. Cover cones completely with frosting. 3. Carefully press silver dragees into wet frosting. Let cones dry 24 hours. Place around edge and on top of cake.
Southern Living