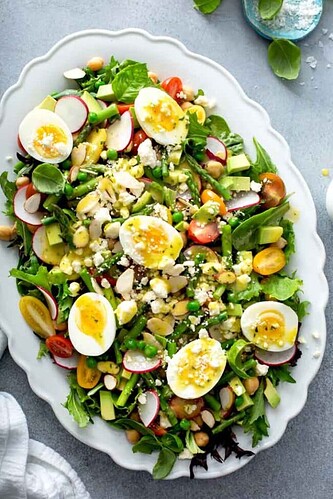 1 bunch asparagus, tender parts only, chopped into 1-inch pieces (about 1/2 pound)
5-6 ounces baby spring greens mix, or arugula
½ cup frozen peas, thawed
2 radishes, sliced paper thin
1 15-ounces can chickpeas, drained and rinsed
1/2 cup halved or quartered cherry tomatoes (you can use assorted colors if preferred)
1 avocado, pitted, peeled and diced
3 hard boiled eggs, peeled and cut in half
1/4 cup goat cheese crumbles (you can also use feta cheese)
¼ cup almond slivers
Sea salt and black pepper
Dressing:
2 tablespoons fresh lemon juice
1 teaspoon Dijon mustard
1 teaspoon honey
1 tablespoon white wine vinegar
1/4 cup olive oil
1 tablespoon tarragon leaves, roughly chopped (basil can also be used)
Salt and black pepper to taste
Make the Salad Dressing:
Put the dressing ingredients in a wide mouthed mason jar or small bowl and blend until emulsified. Taste to adjust any of the ingredients to your own preference
Blanch the Asparagus:
Bring a pot of salted water to a boil and set a bowl filled with ice and water near by.
Drop the asparagus into the boiling water and cook for about 1 to 2 minutes or until bright green and fork tender.
Transfer the blanched asparagus to the iced water to stop the cooking. Drain and pat dry.
Assemble the Salad:
Layer the salad greens on a platter or salad bowl and layer the peas, radishes, chickpeas, tomatoes and avocado. Drizzle some of the salad dressing and season with salt and pepper.
Top with hard boiled eggs, goat cheese crumbles and almonds. Drizzle with additional salad dressing. Season to taste and serve.