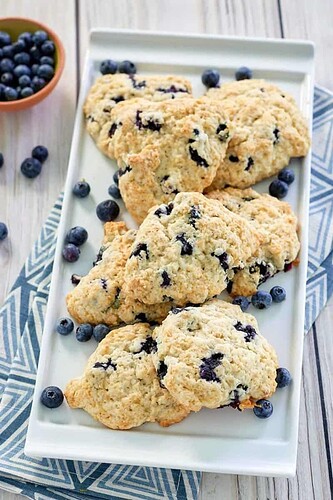 ½ cup fresh blueberries
1⅓ cup all-purpose flour
½ cup granulated sugar
1½ tablespoons baking powder
½ teaspoons salt
1¾ cup heavy cream divided use
¼ cup sanding sugar or super-fine granulated sugar
Preheat oven to 425°F.
Wash blueberries and shake off excess water.
Place blueberries in a small bowl with a couple of teaspoons of flour. Shake the bowl to coat the blueberries.
In a medium mixing bowl, combine flour, sugar, baking powder, and salt. Stir well.
Measure out 1¾ cup of heavy cream. Remove 2 tablespoons and place it in a small dish. The two tablespoons will be used to brush the tops of the scones just before baking.
Pour the heavy cream into the flour mixture. Use a large spatula to fold the ingredients together.
Once a loose ball of dough has formed, add the blueberries.
Cover the dough with a towel and allow it to rest for about five minutes.
Form two equal round disks of the dough.
Cut each disk into 8 wedges.
Brush the top of each wedge with the reserved cream.
Dip the wetted scone into either sanding sugar or granulated sugar.
Place each wedge, sugar-side up, on a baking sheet.
Bake for approximately 15 minutes.