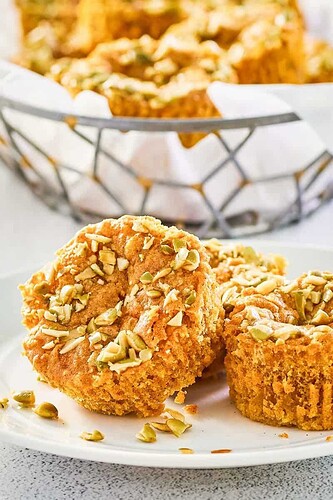 Muffin Batter
2 cups all-purpose flour
½ cup white granulated sugar
½ cup packed dark brown sugar
1 tablespoon baking powder
2 teaspoons ground cinnamon
1 teaspoon ground nutmeg
¼ teaspoon allspice
¼ teaspoon ground ginger
¼ teaspoon ground cloves
½ teaspoon salt
1 cup whole milk
2 large eggs
1 teaspoon vanilla extract
½ cup vegetable oil
1 cup canned pumpkin puree
Cream Cheese Filling
4 ounces cream cheese softened
⅓ cup powdered sugar
1 tablespoon all-purpose flour
Topping
3 tablespoons chopped pepitas
Preheat the oven to 350°F. Line a 12-cup muffin pan with cupcake liners.
In a large bowl, add flour, white sugar, dark brown sugar, baking powder, cinnamon, nutmeg, allspice, ginger, cloves, and salt. Stir with a whisk.
In a medium bowl, combine whole milk, two eggs, vanilla, pumpkin puree, and vegetable oil. Stir until the mixture is uniform.
Combine the pumpkin puree mixture with the dry ingredients. Stir until the muffin batter is just mixed.
In a small bowl, combine softened cream cheese, powdered sugar, and flour. Stir to blend the ingredients until they are smooth.
Place a little more than ¼ cup of batter in each liner.
Place a small dollop of the cream cheese mixture in the center of the muffin.
Sprinkle the chopped pepitas around the edge of each muffin.
Bake muffins for 17 to 20 minutes. Remove from oven.
Let the muffins rest in the pan for 10 minutes before you remove them from the pan.