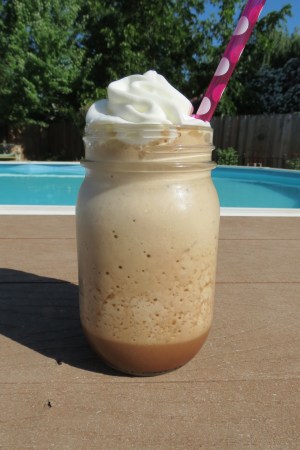 1 heaping teaspoon instant coffee
1½ cups water
½ cup skim milk
3 tsp vanilla extract
1 tsp unsweetened cocoa powder
1 packet stevia or 1 tbsp. sugar (to taste)
In a cup mix coffee and water and stir until combined.
Place in a shallow container, cover and freeze for 4 hours or overnight.
Once coffee is frozen, place in a blender with the milk, vanilla, stevia and cocoa powder.
Blend until combined.
Notes
You do not need to use instant coffee, you can brew a strong cup of your favorite coffee and freeze it, just make sure it's 1½ cups.
If coffee is to frozen for your blender to handle let it sit on the counter for a few minutes to thaw out.