Today's 5 star secret recipe comes from the Strip House, a fine dining chain of steakhouses with locations in New York City and Las Vegas. They serve a delicious vegetarian version of French onion soup. This recipe uses miso to give it a nice savory flavor.
Enjoy!
=-=-=-=-=-=-=-=-=-=-=-=-=-=-=-=-=-=
Lose Weight While Still Enjoying Your Favorite Restaurants
Try this Water Hack
=-=-=-=-=-=-=-=-=-=-=-=-=-=-=-=-=-=
=-=-=-=-=-=-=-=-=-=-=-=-=-=
New Secret Recipe
=-=-=-=-=-=-=-=-=-=-=-=-=-=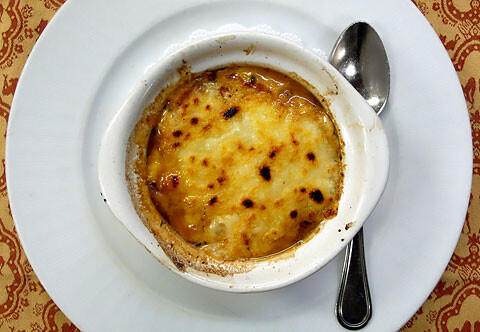 Strip House Restaurant's Miso French Onion Soup
Like this recipe? Get our Restaurant Secret Recipes Cookbook on sale – Here
¼ cup plus 1 tablespoon olive oil
2 ½ pounds large Spanish onions, peeled, halved, and thinly sliced (about 4 cups)
8 diagonal slices of baguette, about 1/4 inch thick.
1/3 cup miso
1 tablespoon finely chopped fresh thyme, optional
Salt and freshly ground black pepper
4 large slices Swiss cheese
Preheat oven to 325 degrees. Place a large sauté pan over medium-high heat for 1 minute. Add 1/4 cup olive oil, and heat until shimmering. Add the onions and cook, stirring constantly and adjusting heat as needed, until the onions are soft and deep golden brown, about 20 to 25 minutes. Remove pan from heat and allow onions to cool in the pan.
Brush both sides of the bread slices with the remaining 1 tablespoon olive oil and place on a baking sheet. Bake, turning once, until just crisp, about 4 minutes a side. Remove from oven and set aside.
Pour 3 cups of water into a 2 quart saucepan. Cover and bring to a boil. Add miso, thyme, and cooked onions; mix well. Simmer and season with salt and pepper as needed.
Preheat a broiler. Place a large oven-proof serving bowl or four small oven-proof bowls on a broiling pan or small baking sheet. Pour the hot soup into the large bowl or divide among the small bowls. Place the croutons on top of the soup, and top with Swiss cheese slices. Place the pan holding the soup directly under the broiler until the cheese is melted, and the soup is bubbling. Serve immediately.
Serves 4-6
Have a comment or question about this recipe? Post it here.
Share This Recipe:
Source: NY Times
Until Next Time… Be Well!
Kind Regards,
RSN