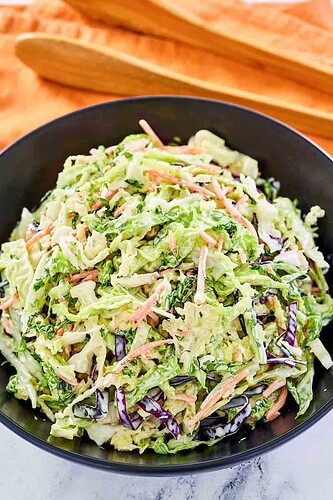 Slaw
3 to 4 garlic cloves
1 head green cabbage
1 to 2 leaves red cabbage
3 large carrots
3 to 4 green onions
3 to 4 celery stalks
Dressing
1/2 cup sugar
1/4 teaspoon salt
2 tablespoons lemon juice
2 tablespoons white wine or champagne vinegar
2 tablespoons Miracle Whip do not substitute
5 ounces sour cream
Rub a salad bowl and the inside of the lid with the garlic cloves (do not discard the garlic cloves). Cover the bowl and let it stand in the refrigerator for as long as possible. Overnight is best.
Mince the reserved garlic cloves and finely shred all the vegetables. Place the garlic and shredded vegetables in a large bowl (not the garlic-rubbed bowl).
Combine all the dressing ingredients and mix well. Pour the dressing over the vegetables and toss until fully coated.
Transfer the salad to the garlic-rubbed bowl and stir.
Cover and let stand in the refrigerator until cool.