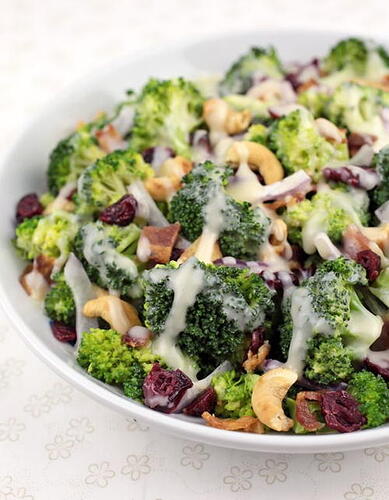 Salad:
1/4 cup cashews
1 big head broccoli
6 slices cooked, chopped bacon
1/3 cup dried cranberries or raisins
1/4 cup thinly-sliced red onion
Dressing:
1 cup mayonnaise
1/3 cup sugar
2 tablespoons apple cider vinegar
salt and pepper, to taste
Preheat the oven to 350 degrees F. Add the cashews to a small baking sheet and cook 10 minutes. Toss them around halfway through. Remove from oven and cool.
Wash the broccoli and cut it or break it by hand into bite-sized florets. You can use it raw or blanch it to tenderize it slightly if you don't like raw broccoli. If using it raw dry it well with paper towels and skip to step 4.
To blanch: boil a big saucepan of water, add the broccoli and cook 2 minutes. Remove immediately with a slotted spoon and place in a big bowl of ice water to stop the cooking and cool it off. Drain well in a colander and then pat dry with paper towels.
In a large mixing bowl whisk together the mayo, sugar and vinegar until smooth.
Add the broccoli, cashews, bacon, cranberries and onion. Toss well and let it sit 10 - 15 minutes before serving. Toss again. Salt and pepper to taste.
Chill the leftovers up to 3 - 4 days.