Today's Secret Recipe comes from the Sycamore Kitchen in Los Angeles. Sycamore Kitchen is a favorite spot for breakfast and amazing baked goods. Chef Karen Hatfield showcases a stellar selection of New American cooking and fabulous pastries.
One of the delicious creations they serve at Sycamore Kitchen is the oatmeal cookies. What elevates this cookie recipe is the yummy coconut toffee that each cookie is topped with.
We also have a great selection of cookie recipes on our forum: Go Here
Enjoy!
=-=-=-=-=-=-=-=-=-=-=-=-=-=
I was losing my memory, focus – and my mind!
And then… I got it all back again.
Discover How: Here
=-=-=-=-=-=-=-=-=-=-=-=-=-=
=-=-=-=-=-=-=-=-=-=-=
New Secret Recipe
=-=-=-=-=-=-=-=-=-=-=
Sycamore Kitchen Oatmeal Cookies
Like this recipe? Get our Restaurant Secret Recipes Cookbook – Here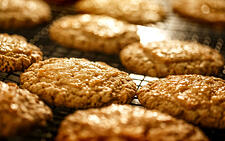 Coconut toffee:
1 cup (2 sticks) butter
2 cups (14.25 ounces) sugar
1/2 cup water
2 teaspoons salt
3 cups unsweetened coconut
Melt the butter in a heavy pot over low heat. Whisk in the sugar, water and salt, scraping down the sides. Bring the mixture to a boil, and do not stir until the toffee begins to color. When it is the color of peanut butter, add the coconut, stirring to combine.

Spread onto a rimmed baking sheet so the toffee is no thicker than 1/4 inch. Cool, then break into pieces about 2 inches in diameter. This makes more toffee than is needed for the rest of the recipe; the toffee will keep, in an airtight container at room temperature, up to five days.
Oatmeal cookies:
2 1/2 cups (8.5 ounces) old-fashioned oats
1 cup plus 3 generous tablespoons (5 ounces) flour
1 teaspoon baking powder
1/4 teaspoon baking soda
1/2 teaspoon kosher salt
1/3 cup plus 1 heaping tablespoon (1½ ounces) wheat germ
1 1/4 cups (2½ sticks) butter
1/2 cup plus 3½ tablespoons (5 ounces) sugar
1/4 cup plus a scant 2 tablespoons (3.3 ounces) dark brown sugar
1 egg
1 teaspoon vanilla extract
Coconut toffee, broken into 2-inch pieces
In a large bowl, whisk together the oats, flour, baking powder and soda, salt and wheat germ. Set aside.

In the bowl of a stand mixer using the paddle attachment, cream together the butter with the two sugars until light and fluffy, 6 to 8 minutes. Scrape down, add the egg and vanilla and beat to combine. Scrape again, and add the dry ingredients in two additions, beating just until combined. Wrap the dough tightly in plastic wrap and refrigerate overnight.

Heat the oven to 375 degrees. Portion the cookies using a 1/4-cup measuring cup. Roll each cookie into a ball, then flatten slightly, sprinkling a little kosher salt on the edges. Space the cookies a few inches apart on a baking sheet (they will spread), and bake for 10 minutes. Remove from the oven and place a piece of toffee on top of each cookie, pressing down on each gently.

Return to the oven and bake until the cookies are a dark golden color and the edges of the toffee have melted, 5 to 7 minutes more.
Makes 14 Cookies
Source: L.A. Times
Get more secret restaurant recipes on our Secret Recipe Forum: Here
Until Next Time… Be Well!
Kind Regards,