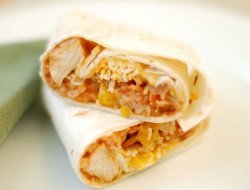 1 large package flour tortillas
1 red bell pepper, cut into thin strips
1 green bell pepper, cut into strips
1 yellow bell pepper, cut into thin strips
1 medium yellow onion, roughly chopped
Grilled chicken breast strips (homemade or store-bought)
Sour Cream
Guacamole
Salsa
Shredded Mexican Cheese blend
Cook the peppers and onions in a few drops of olive oil over medium heat in a large skillet. Add a pinch of salt while they cook. Once they are wilted and cooked through remove them from the heat.

Present a large platter or lazy susan with bowls of sour cream, guacamole, cheese and salsa. Assemble fajitas by placing warm chicken and vegetables in a tortilla then adding whatever condiments you can. Wrap up and enjoy!