This Secret Recipe comes from Table 6 in Denver. Chef Scott Parker has created a rich and delicious chicken pot pie that has become a customer favorite at Table 6. The chicken is first brined and then roasted to perfection. A homemade puff pastry is then made using the rendered chicken fat and then placed on top of each pot pie.
If you are short on time, you can use frozen puff pastry.
To make your own chicken fat puff pastry, use this recipe from our forum
Table 6's Chicken Pot Pies with Chanterelles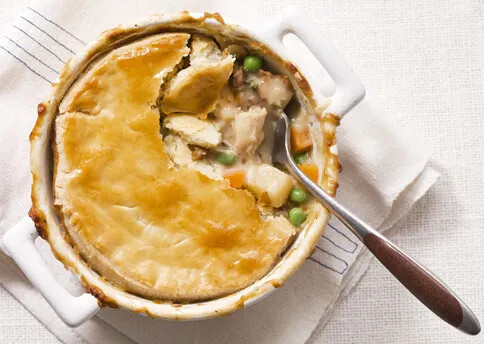 Ingredients:
Chicken:
2 tablespoons olive oil
1 1/2 cups chopped carrots
1 1/2 cups chopped celery
1 1/2 cups chopped onion
2 garlic cloves, chopped
2 large fresh thyme sprigs
2 bay leaves
1 teaspoon whole black peppercorns
16 cups water, divided
1/2 cup coarse kosher salt
1/4 cup sugar
4 cups ice cubes
1 5- to 5 1/2-pound whole chicken (preferably organic), rinsed, patted dry
Pot Pie Filling:
1/3 cup milk
4 garlic cloves, peeled
1/3 cup water
3 tablespoons cornstarch
3 tablespoons olive oil, divided
1 1/4 pounds chanterelles or other wild mushrooms, coarsely chopped
3 cups 1/2-inch cubes peeled carrots
3 cups 1/2-inch pieces leeks (about 3; white and pale green parts only)
3 cups 1/2-inch cubes peeled white-skinned potatoes
2 tablespoons chopped fresh thyme
3 1/2 cups (or more) low-salt chicken broth
1 10-ounce package frozen peas, thawed
1 cup heavy whipping cream
4 teaspoons fresh lemon juice
3/4 teaspoon hot pepper sauce
1/2 teaspoon white truffle oil (optional)
Chicken-Fat Puff Pastry
Special Equipment:
6 2-cup ramekins or souffle dishes
Directions:
Chicken:
Heat oil in large deep pot over medium-high heat. Add carrots, celery, and onion; sauté until golden and tender, about 10 minutes. Add garlic, thyme, bay leaves, and peppercorns; stir 2 minutes. Add 8 cups water, 1/2 cup coarse salt, and sugar; bring to simmer, stirring until salt and sugar dissolve. Remove from heat. Add remaining 8 cups water and 4 cups ice cubes. Let stand until brine is cooled completely. Submerge chicken in brine; cover and chill at least 12 hours and up to 24 hours.

Preheat oven to 375°F. Remove chicken from brine. Rinse chicken and pat dry; place in roasting pan. Sprinkle chicken with pepper; roast until cooked through and juices run clear when thickest part of thigh is pierced, about 1 hour 20 minutes.

Transfer chicken to platter; cool slightly. Spoon fat from roasting pan into small container. Cover; freeze fat until firm; reserve for puff pastry. Discard skin and bones. Tear chicken meat into large bite-size pieces; reserve for filling.
Note: DO AHEAD Chicken fat and chicken pieces can be made 1 day ahead. Keep fat frozen. Cover and chill chicken.
Pot Pie Filling:
4. Combine milk and garlic in small saucepan; simmer 2 minutes. Remove garlic from milk and chop finely; discard milk. Whisk 1/3 cup water and cornstarch in small bowl to blend; set aside.
Heat 1 tablespoon oil in heavy large pot over medium-high heat. Add mushrooms and sauté until tender and brown, about 6 minutes. Transfer mushrooms to bowl. Add remaining 2 tablespoons oil to same pot; add carrots, leeks, and potatoes and sauté until beginning to soften, about 10 minutes. Add chopped garlic and thyme; stir 2 minutes. Add 3 1/2 cups broth; bring to boil. Reduce heat, cover, and simmer until vegetables are tender, about 15 minutes longer.

Rewhisk cornstarch mixture and add to vegetable mixture; stir until broth boils and thickens, about 2 minutes. Stir in chicken, mushrooms, peas, and cream; simmer uncovered until heated through and mixture has consistency of stew, adding more broth by 1/4 cupfuls if mixture is too thick, 6 to 7 minutes. Stir in lemon juice and hot pepper sauce. Season to taste with salt and pepper. Mix in truffle oil, if desired.
Divide pot pie filling among six 2-cup ramekins or souffle dishes.
Note: DO AHEAD Can be made 6 hours ahead. Cover and chill.

Preheat oven to 375°F. Top each pot pie with 1 baked puff pastry round. Bake pot pies until filling is heated through, about 15 minutes if warm or at room temperature and 25 minutes if chilled.
Serves 6
Source: Bon Appetit
Get more secret restaurant recipes on our Secret Recipe Forum.
Like Copycat Recipes? Get our Secret Recipes Special 2 for 1 Sale - Cookbooks Here.
Until Next Time… Be Well!
Kind Regards,
RSN