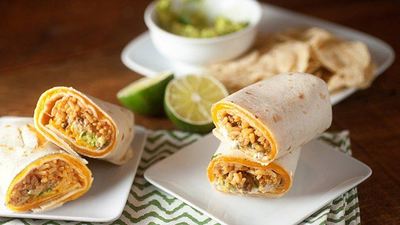 1 pound ground beef
1 packet Old El Paso™ taco seasoning mix
1 packet Old El Paso™ heat & serve fiesta rice
16 Old El Paso™ Old El Paso™ flour tortillas for burritos
1 cup cheddar cheese, shredded
8 tablespoons sour cream
8 tablespoons prepared guacamole
Add the ground beef to a large skillet over medium heat. Stir often to break up the meat until cooked through, about 10 minutes.
Drain the grease from the meat and stir in the packet of taco seasoning and water, as called for on the seasoning packet. Cook for 2 minutes and remove from the heat.
While the meat is cooking, cook the rice according to package instructions.
Lay one tortilla on a microwave-safe plate and top with a sprinkling of cheddar cheese. Top with a second tortilla. Microwave for 15 seconds or until the cheese has melted.
Spoon a bit of rice onto the tortilla, topped with the ground beef, more cheese, sour cream, and guacamole as desired. Don't overfill your tortillas or they'll be difficult to close.
Fold the ends of the tortillas up and bring the center over the filling. Roll the burritos closed.