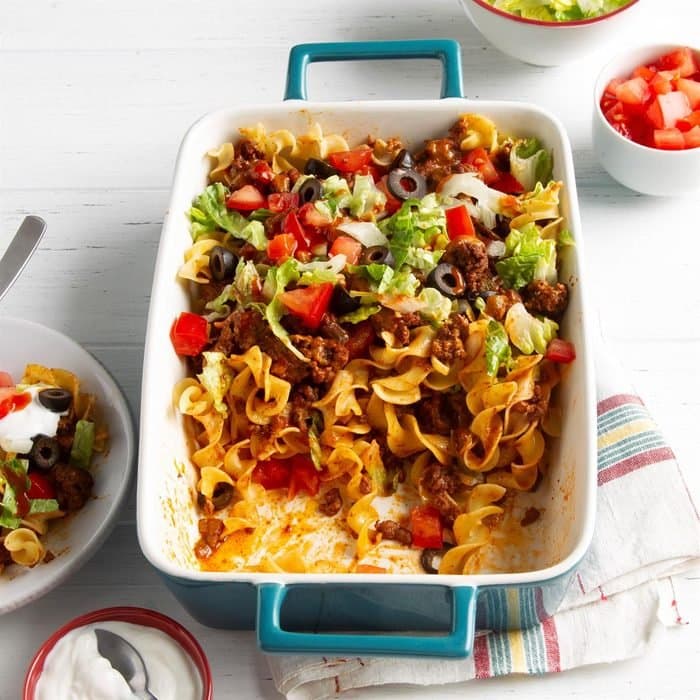 2 cups uncooked wide egg noodles
2 pounds ground beef
1 can (8 ounces) tomato sauce
1/2 cup water
1 can (4 ounces) chopped green chilies
1 envelope taco seasoning
1 teaspoon onion powder
1 teaspoon chili powder
1/2 teaspoon garlic powder
1 cup shredded cheddar cheese
2 cups shredded lettuce
1 cup diced fresh tomatoes
1/3 cup sliced ripe olives, drained
1/2 cup taco sauce
1/2 cup sour cream
Preheat oven to 350°. Cook noodles according to package directions.
Meanwhile, in a large skillet, cook beef over medium heat until no longer pink; drain. Stir in tomato sauce, water, green chilies, taco seasoning, onion powder, chili powder and garlic powder. Bring to a boil. Reduce heat; simmer, uncovered, 5 minutes.
Drain noodles; place in a greased 11x7-in. baking dish. Spread with beef mixture; sprinkle with cheese. Bake, uncovered, until cheese is melted, 10-15 minutes. Let stand 10 minutes.
Top with lettuce, tomatoes, olives and taco sauce. Garnish with sour cream.