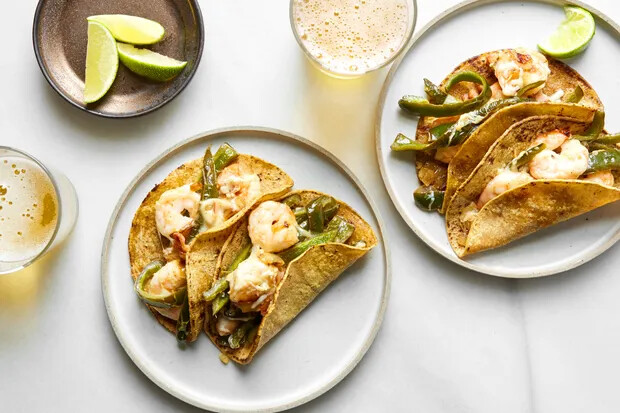 4 teaspoons neutral cooking oil, such as canola oil
1 onion, peeled and diced
1 garlic clove, peeled and minced
2 poblano chiles, stems removed, cut into 1/4-inch-wide strips
8 corn tortillas
Juice of 3 limes
1 slice bacon, diced small
8 ounces peeled and deveined medium shrimp
1 teaspoon kosher salt
1 cup Queso Asadero cheese (if not available, substitute Teleme or Monterey Jack)
For serving:
2 limes, cut into wedges
Homemade or store-bought tangy red salsa
Warm 3 teaspoons of the oil in a frying pan over medium-low heat. Add the onion and cook for 5 minutes, stirring gently. Add the garlic and continue to cook for 3 minutes. (If, at any time during the cooking process, the items in the pan dry out at all, deglaze the pan with some lime juice, scraping up the browned bits with a wooden spoon, and continue.) Turn the heat to medium and add the chiles. Cook for 10 minutes, or until the chiles are thoroughly cooked.
At this point, warm a separate frying pan over medium heat and add the remaining 1 teaspoon oil. Interleaved with finishing the rest of the recipe, heat each tortilla in the oil-coated pan for about 20 seconds per side, just long enough to make them the slightest bit golden but still pliable, and put between two towels to stay warm and wick away any excess oil.
Once the chiles have cooked for 10 minutes, pour the lime juice on the ingredients in the pan. Add the diced bacon to the pan and turn the heat to medium-high. When the pan has heated up and the bacon has started to turn color, add the shrimp and use the salt to season everything in the pan. Cook for 2 to 3 minutes, stirring and flipping the shrimp as necessary to cook them evenly. The shrimp should be bright pink and white and opaque. If they are still translucent, cook them a little longer.
Sprinkle the cheese over everything in the pan and turn the heat to low. Continue stirring until the cheese is melted. Remove the pan from the heat. Distribute the cheesy shrimp mixture equally among the tortillas, making a plate full of tacos. Serve along with the lime wedges and red salsa, if desired.