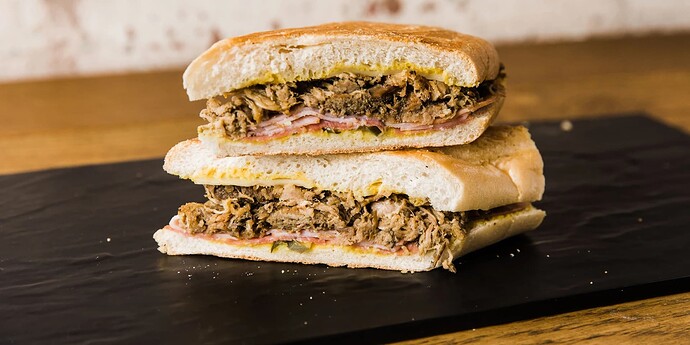 Cuban Roast Pork
1 (5-pound) bone-in pork shoulder
30 cloves garlic
salt, to taste
2 tablespoons oregano
3 cups fresh squeezed sour orange juice
Sandwich
1 (8-inch) Cuban bread
2 tablespoons yellow mustard
8 pickle slices
5 thin slices salami
4 thin slices sweet ham
4 thin slices Swiss cheese
softened butter
For the Cuban roast pork:
With a knife, make inserts all in the shoulder to stuff the garlic in, stuff with garlic, then massage with salt and oregano and add the sour orange juice. Cover and refrigerate. Every two hours for 12 hours rotate the shoulder and spread the mojo all over the slits so it goes inside the meat.
Preheat oven to 300 F.
After marinating, place in the oven covered with parchment paper and foil and bake for 5 hours or until it falls off the bone.
Shred the meat once done and hold for the sandwich.
For the sandwich:
Split the bread in half and spread the mustard on both sides. On the bottom add the pickles, then the salami, then the ham, about 6 ounces of the pork and the Swiss cheese.
Warm a large cast iron skillet on medium with butter and start toasting your Cuban. Place a clean plate on top and hold it down and apply pressure to emulate a sandwich press. The sandwich is done when the cheese is melted.