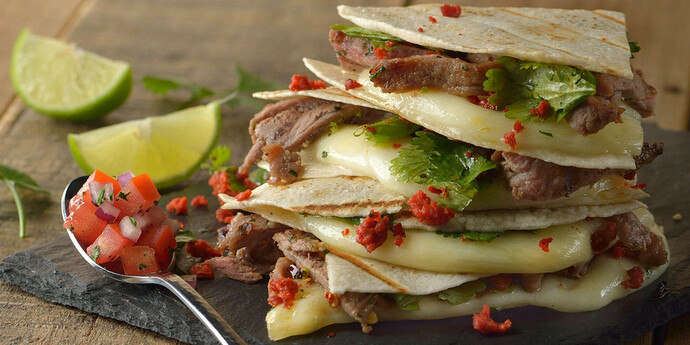 Tampiqueña
2 (8-ounce) beef tenderloins
3 tablespoons avocado oil
1 teaspoon salt
1/2 teaspoon freshly ground black pepper
1/2 teaspoon oregano
2 ears fresh corn, cut in half, previously par-boiled in water
Quesadilla
8 flour tortillas
2 cups shredded Monterey Jack cheese
2 cups warm red rice (recipe below), to serve
1 cup avocado puree, to serve
For the tampiqueña:
Place tenderloin on its side on a cutting board. Make a small cut, about a half-inch deep, and keep cutting while turning the tenderloin, until it becomes flat — this way, you will obtain a tampiqueña. Repeat with the other tenderloin.
In a bowl, combine the avocado oil, salt, black pepper and oregano.
Preheat grill to medium-high heat.
Brush tampiqueñas and ears of corn with the oil and cook on the preheated grill. Cook meat 3 minutes per side, or more if you like, and cook corn until charred.
For the quesadillas:
Cut tampiqueñas in strips.
Heat tortillas in a pan with cheese and tampiqueña, and cover with another tortilla.
Cook until the cheese is melted and tortillas are golden.
Cut in fourths and serve with warm red rice and avocado puree.
Note
For a vegetarian option, use cauliflower slices cooked in water in place of beef tenderloin. The traditional or classic tampiqueña is served with black fried beans, guacamole and red or green enchiladas.
Red rice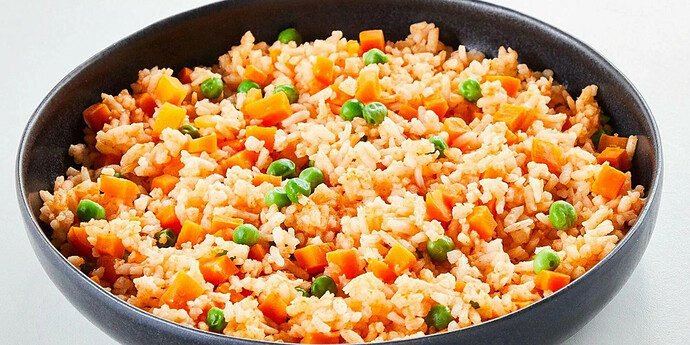 3 tomatoes, chopped
1/4 onion, diced
1 cloves garlic, minced
1 cup vegetable stock
salt and freshly ground black pepper, to taste
1 cup long grain rice
2 tablespoons canola oil
1 small bunch cilantro, cleaned and chopped
1 teaspoon butter
1/2 cup diced carrot, previously par-boiled in water
1/2 cup peas, previously par-boiled in water
Cook tomatoes, onion and garlic in a dry pan until charred and soft.
Transfer the tomato mixture to a blender with vegetable stock, salt and pepper. Process until smooth.3.
Wash rice in a strainer under cold running water, moving it around with your hands until the water runs clear, then drain.
Heat oil in a pan and add rice. Cook while moving, until rice turns opaque.
Add 2 cups of the tomato sauce and stir once. Add cilantro, cover and reduce heat to low. Cook rice for 20 minutes, uncovering for the last 5 minutes.
While rice is cooking, melt butter in a pan and cook vegetables until golden-brown. Season with salt and pepper.
Stir the vegetables into the rice and serve warm.