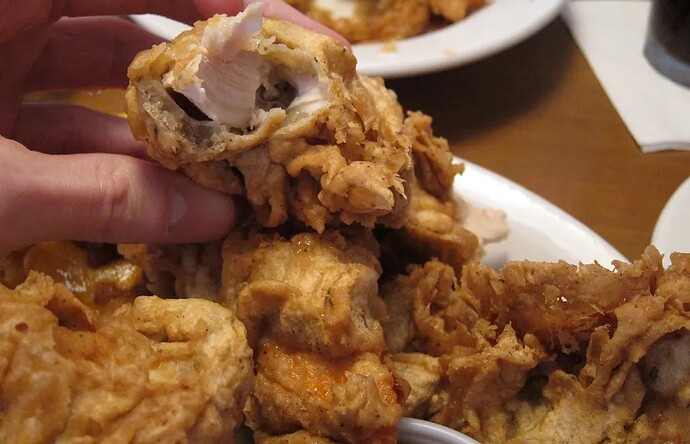 =-=-=-=-=-=-=-=-=-=-=-=-=-=-=-=-=-=-=-=-=-=-=-=-=-=
Your OMAD should be a
Vegan Protein Smoothie
=-=-=-=-=-=-=-=-=-=-=-=-=-=-=-=-=-=-=-=-=-=-=-=-=-=
2 lbs boneless chicken tenderloins
2 cups buttermilk
2 cups flour
1 tablespoon steak seasoning
1/3 teaspoon cayenne pepper
1/2 tablespoon black pepper
1/2 tablespoon white pepper
1 cup club soda
2/3 cups cold water
1/2 teaspoon sea salt
Frying oil
Directions:
Rinse chicken breasts, then cut into strips. Opt for kitchen sheers over a knife if available for ease and size consistency.
Pour buttermilk into a bowl. If buttermilk is not available, combine 1 tablespoon of white vinegar with 2 cups of regular milk and allow it to sit for about 5 minutes before using.
Soak chicken strips in buttermilk for about 5 minutes.
Place flour, steak seasoning, cayenne pepper, black pepper and white pepper in a bowl and stir to mix.
Add club soda and water to the mix and stir until you have a smooth consistency and no lumps of flour remain. Consider using a whisk to help make the blending easier.
Remove chicken from buttermilk, then dry with a paper towel.
Heat oil in a Dutch oven or fryer to 350 degrees.
Drop each chicken strip into the batter, then place on a plate for a few minutes.
Fry each battered chicken strip for about 3 to 7 minutes. The timing will vary based on the size of the strips and the amount of coating. The strips should be golden brown when ready.
Remove each strip from the oil and place them on a plate lined with paper towels.
Dust the top of the strips with sea salt.
Serve chicken critters immediately.