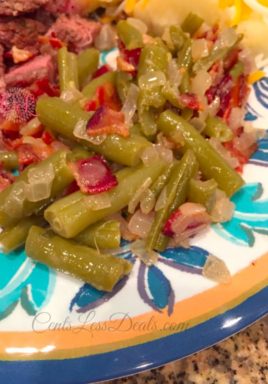 8 oz bacon cut into little pieces
2 cans of green beans 16 oz, drained
1/4 cup diced onion
1 tsp minced garlic
1/4 cup butter
2 cups chicken broth
1 tsp sugar
pepper to taste
Place bacon in a large skillet on med-high heat.
Once bacon is cooked, remove from pan and drain.
In a medium saucepan combine green beans, bacon, chicken broth, butter, onion, garlic, and sugar.
Bring to a boil then lower heat to medium.
Cover saucepan and let simmer about 15 minutes, or until green beans are tender.
Drain excess juices and serve.