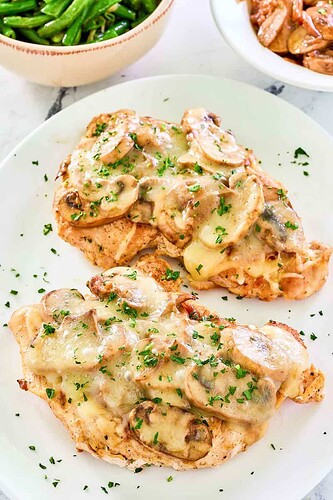 2 large chicken breasts
1 teaspoon seasoned salt such as Lawry's
1/2 teaspoon ground black pepper
1 tablespoon butter plus extra if needed
1 medium onion cut into 1/4-inch slices
salt
1/2 pound button mushrooms sliced
1/4 pound Monterey Jack cheese shredded
Cut the chicken breasts in half horizontally. Place each half between sheets of plastic wrap and gently pound with a meat mallet until the chicken is of a uniform thickness. Season the chicken with seasoned salt and ground black pepper.
Place the butter in a large skillet over medium-low heat. When the butter is hot, add the onions along with a two-finger pinch of salt. Sauté for 3 to 4 minutes, stirring occasionally. Add the mushrooms and sauté for another 3 to 4 minutes, until the mushrooms begin to brown. Remove the mushrooms and onions from the skillet.
If the skillet is dry, add a teaspoon of butter. Then place the chicken breasts into the hot skillet. Do not overcrowd the pan; you may need to cook the chicken in batches depending on the size of the skillet. Cook for 6 to 8 minutes on one side. Flip and cook for another 3 to 4 minutes on the other side.
Top the chicken with the onions, mushrooms, and Monterey Jack cheese. Turn off the stove when the cheese has melted and serve.